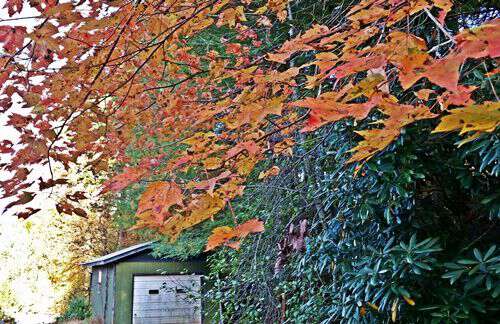 "Have you ever seen the countryside when leaves were turning red The fields of grass were shades of brown"
The words above are from the first line of the song "Nellie Moved to Town" which was written by Charlie Louvin. The book "In Close Harmony: The Story of The Louvin Brothers" has this to share about the song:
"That was my first love." Charlie muses. "Her name was Nell. I seriously thought I was in love. It didn't work out that way. I went to the army in the early part of 1946; she wanted to get married right then. Well, I had this little bet with my daddy, we talked about some of the other kids, two sisters that got married when they were thirteen, one got married when she was fourteen, another one fifteen, to get away from home. [My dad] was pretty strict. Ira married when he was seventeen, was a father before he was eighteen. My father said "Kids today, too young to marry. You've got sense enough not to marry until you are twenty-two or better." I said, "How old were you?" and he said, "I was twenty-two." And I said. "Well, I'll be older than you were before I get married."
"I did get married the year I was twenty-two. But, getting back, she wanted to get married and I knew too many war wives that anybody could have fun with, and I didn't want to leave one of them home. What she did as a single girl would be her business. She corresponded with me the whole time I was in. Sweetest letters you ever seen. When I came back, before I even went home to see my Mom and Dad, I went to Chattanooga, to that address where she'd been writing from. It was a shotgun type house with a thing right down the middle, which meant that one family lived on one side, one on the other. So here was a baby's play pen on the front porch and a baby's in there, damn near a year old. I didn't know whose baby it was, so I stepped up to the door and knocked on the door with my cigarette lighter, a big Zippo, and here she came to the door. Just before taking hold of her, just about to hug her neck completely off, and I heard jolly green giant steps. Somebody you could tell was big. This guy walks up about this much taller than she was, and she said, "Oh, I want you to meet my husband." I could have fell through a crack in the floor. She'd been married for over a year. All the time she wrote those letters she was married. But I'm kind of glad. She's gone through eight husbands by now." The song itself had been written by 1950, "But until the Everly brothers came along and gave us an excuse to smooth it the music, so to speak, we had no use for "Nelly"; it wasn't our style. But in 1958, with the Everlys hitting so good, there was a possibility that we could have turned something around with that. But it didn't happen."
While the song may have been written about an unfaithful love it will always remind me of the beautiful colorful fall that happens every year in Appalachia and the soothing harmony singing that was part and parcel of The Louvin Brothers and of Pap and Paul.
Tipper
Subscribe for FREE and get a daily dose of Appalachia in your inbox