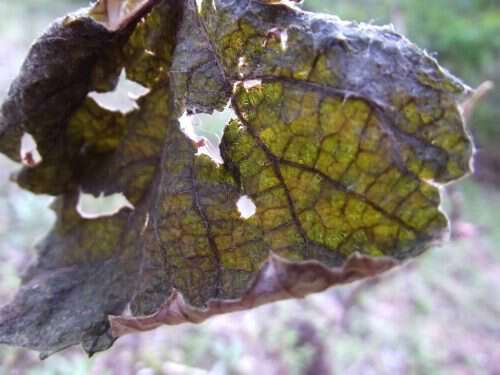 I knew the unusually warm weather we've had this Spring would be interrupted by at least a few more visits from Jack Frost. I also knew his visit would damage our tender plants that are way ahead of their growing schedule. As I drove the girls to school this Thursday morning, I seen Jack's calling card on the trees, houses, and cars along the way.
In years past-I tried to cover up everything I could with buckets or sheets to protect it. But I didn't even try this time. My Blueberries-and Apple trees are too big to cover. The spring veggies I have growing in the garden can stand a little frost-and somehow I don't worry about my flowers like I used too. My tomatoes and peppers are still safe and warm in the greenhouse.
I did feel guilty about not covering the grapevine-and as you can see from the photo the cold burnt all the leaves on it. I felt some better today when Pap said Granny covered her grapes and they still got bit.
According to the tv station WLOS Apple orchards across western NC were hurt too:
In some orchards many of the blossoms have turned a dirty beige color, and the skin of the baby apples is easily pulled free of the core. That means ice formed between the skin and the apple, resulting in dead or damaged fruit. Growers nearby report temperatures ranging between 24 and 28 degrees last night, and that big freeze held for several hours, increasing the amount of frost. Apple farmers won't know how much damage was done until next week because the results of the freeze take time to show up.
We're under another freeze warning tonight-I'm just hoping it'll miss some of my Blueberries-but it looks doubtful.
Did Jack Frost come back to bite your stuff too?
Tipper
Appalachia Through My Eyes – A series of photographs from my life in Southern Appalachia.