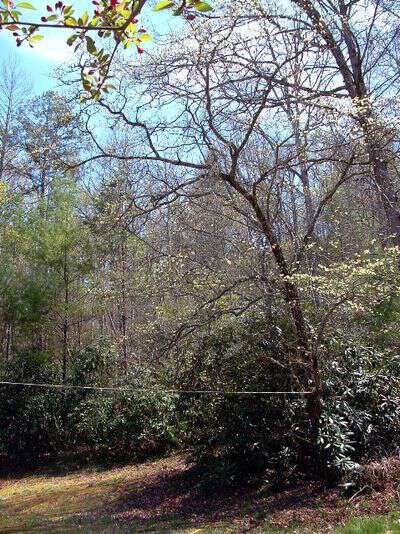 Here, in the Southern Highlands of Appalachia, we have been experiencing Dogwood Winter. Each spring there is a cold spell of weather right around the time the Dogwood trees bloom. Folks throughout the south refer to this as Dogwood Winter.
A little over 2 weeks ago-we even had a skiff of snow settle on the early blooms in the area. Summer time temps are forecast for the next few days-and I'm ready for it.
Around the house today I noticed: bees buzzing, lettuce thriving, wild Iris and wild violets blooming.
Over the last week-we've began to eat from the bounty of our spring garden-radishes, lettuce, green onions, and spinach.
To increase our garden area-we had hoped to build several raised beds over the winter. With the downturn in the economy-the money just wasn't in our budget to buy the materials.
I had given up on the idea-thinking it was something we would get to eventually-but not this year. The Deer Hunter surprised me by building the beds from logs cut from our property. So far-the only thing I have planted in this bed-is the Asparagus seeds Hubert shared with me.
I'm all into rustic-so I'm thrilled with the way they look-and by using the logs we don't have to worry about chemicals leaching into the soil from lumber. My favorite thing about the beds-The Deer Hunter used what he had and made do-I like that mentality.
Hope you enjoyed peeking into my spring growing season. What about you-do you have a Dogwood Winter where you live? What's growing in your yard or garden?
Tipper