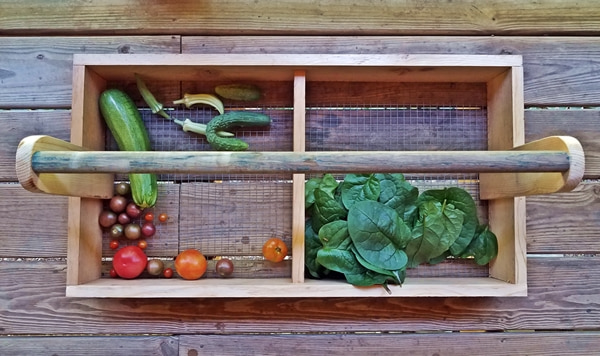 Over the years we've mostly harvested garden items by carrying a 5 gallon bucket around. Somehow over the winter a few of our buckets disappeared and this summer Chitter commandeered several of them for one of her projects.
Saturday we were gathering garden bounty and I joked about the fact that I had already made one trip to unload on the porch and was about to have to make another because I was using a plastic Easter basket from twenty years ago 🙂
After we finished up with what we needed to do outside The Deer Hunter said he had a project he needed to work on and headed to the basement.
A few hours later he presented me with the harvest basket at the top of this post. I was tickled to death! He made it with what he had on hand and wished he had the material to make the sides taller, but I think it turned out just perfect!
I've already used it for harvesting and I've thought of a dozen other uses for the sturdy basket.
My favorite part of the basket is the handle. It's made from an old broom family friend Tim Ryan gave the girls a few years back.
One year they worked on his landscaping crew. At the end of the season Tim decided he was going to retire and he gifted the girls with some of his tools so that they could continue to work a few of his regular clients. The old broom was among the implements.
Tipper
Subscribe for FREE and get a daily dose of Appalachia in your inbox