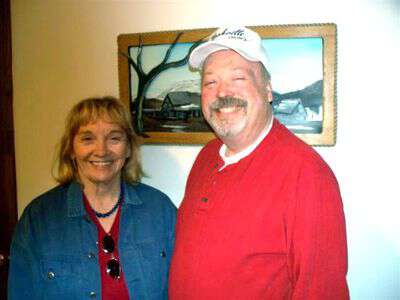 Blind Pig reader and supporter, Eva Nell, recently published her second book-Fiddler of the Mountains. A week or so ago, Eva Nell and her lovely husband Jim made a stop in Murphy as part of a book signing tour. After I chatted with them at the signing, they followed me down the hill and around the bend to watch Chatter and Chitter at clogging practice.
I could tell you all about Eva Nell's new book-but I think she tells about it much better than me. See below:
———————-
A brief introduction to "Fiddler of the Mountains – Attuned to the Life and Times of Johnny Mull" (10-2013) AUTHOR: Eva Nell Mull Wike, PhD
My Uncle Johnny Mull (May 30, 1922-March 15, 2008) was born in a little cabin on the rugged mountains of Tusquittee in Clay County, North Carolina. His father (Calvin Monroe Mull, 1877-1964) taught him to play fiddle when he was around ten years old. Music was about the only thing that gave them a break from hard work back in those days. Johnny was quick to learn from Grandpa Calvin and was able to be playing for dances by the time he was a teenager.
Anybody who could grow up in such an isolated place and become a fine fiddle player was looked upon as a 'gifted' person. And that is exactly what my Uncle Johnny was known for in our family and in the surrounding communities. I have often heard folks say, "That Johnny Mull is a mighty fine fiddler!" I feel in my heart that Uncle Johnny ranks right up there as one of the best musicians in Western North Carolina.
But Johnny did not limit his playing to Clay County and dances on Tusquittee. No Sir! When he was in his early twenties he took off to Canton, Ohio, and got a good paying job at Timken Roller Bearing Company. That was exactly what his older brother, Joseph David (1900-1992), had done when he was 22 years old. I always thought if my daddy, (Joseph) had not gone up to Canton to find work, Johnny might never have left the mountains. But you never know what life will hand out to you!
Well Sir, while Johnny was working up in Canton at the Timken Steel mill, he was renting a room from a very nice lady, Myrtle Steiner, and her husband, who was a mighty good fiddle player. They got along fine for several years until time took its toll. It was then that my Grandpa Calvin Monroe got mighty low. Johnny's brothers and sisters wrote and told him to come home to help out during this tough time. Of course that was exactly what Johnny did. He left his good paying job and came back to Tusquittee.
Now I was already gone from home and did not even know about these details. So I did not pay much attention to Uncle Johnny coming back home. I just recollect that my daddy was mighty happy to have Johnny back with his parents. But Johnny missed a certain lovely lady whom he had met up in Ohio by way of his landlady.
Actually this lovely lady (Hazel) was Myrtle's younger sister and she lived in Virginia. In the way we tell it here in the mountains, you could say, "Hazel and Johnny were Sweethearts!" But their story is mighty sad. I will not tell it here but in "Fiddler of the Mountains" I do share their parting and coming back together again many years later.
Right here I need to share just a few details about how my actually telling Uncle Johnny's story and writing "Fiddler" came about in 2012. It is what I call a MIRACLE! Let me just tell you why I use of the word 'miracle' in telling how I was inspired to put Uncle Johnny's story into print. But first, I was kind of 'put down' by a very knowledgeable person for using the word miracle. But in my heart I feel it was indeed a miracle!
The time was a beautiful night on October 5, 2012, when my sweetheart and I had checked into a little motel upon Shooting Creek, NC, after driving from Oak Ridge, TN. I was plumb worn out but I went to the office and asked if I could read the "Clay County Progress" which is our mighty fine local paper. The lady at the desk said, "Of course! Just take the paper with you." And that is exactly what I did.
As I was reading the details of a performance at the John C. Campbell Folk School, suddenly I was NOT exhausted. I announced to my sweetheart, "We must go to the Folk School right now – this minute!" This sweetheart (James Seymour Wike, Sr.) suddenly was not exactly sweet! Jim's reply was, "WHAT? I thought you were tired of driving! Now you want to drive back down to Brasstown to the School! What ever do you want to go down there for?"
To make a long story longer we went to hear my friend, Tipper and her family group "The Blind Pig and Acorn" who perform their wonderful style of playing mountain music and harmonizing like forty! I am telling you they are good! After the performance that Tipper came right off that stage and gave us a wonderful WELCOME hug! She could not believe I had driven all the way from Oak Ridge, TN to attend their performance.
As usual Jim had already found an interesting fellow to talk with in the crowd. I just happened to be listening to their conversation when I heard the stranger say, "Bill Mull" in his story he was sharing with Jim. I kind of eased over and waited a minute before I said, "Excuse me Sir. Did I hear you say my brother, William Mull's name?" With a friendly smile he said, "Well, if your brother is Bill Mull you shore did!"
This man had owned more 'big rig' trucks than you could count and my brother 'Bill' had driven a semi for him for years. The stories of his life down in Brasstown would fill many books. But they have not been written! The reason I know this is that he and Jim continued talking as the doors were being closed at the School and we were gently ushered outside – into the splendid October night with a full moon shining down on us!
After about an hour's conversation and stories about so many folks I knew as a child growing up in the Matheson Cove, the man suddenly stopped. He gave me a strange look and said, in an amazed tone, "You are Johnny Mull's niece aren't you? A chill ran down my spine, as Uncle Johnny had been gone on for four years, and I did not know what difference that fact would make, that I was Johnny's niece.
Well it turns out that he had worked with Uncle Johnny up in Canton, back in the '50's. He had lots of Johnny's personal photos which Myrtle, Johnny's landlady, had sent to him when Johnny died in 2008. For four years he had kept the photos – not knowing what to do with them. It was at that moment that I promised him that I would do something special with Johnny's pictures if he gave them to me. Right then I had no idea what 'special thing' I would do. He assured me he would bring Uncle Johnny's photos to me the next day to the Senior Center in Hayesville, where I would be lecturing at the LEDFORD FAMILY REUNION!
The following morning the gentleman called me and told me he was unable to find the pictures Myrtle had sent him back in 2008. I quickly said, "That's fine. You will find them and just get them to my sister, Eddie Lee Garrett." He said, "Oh that will be easy! She goes to my church."
A week later he found the photos and Eddie Lee mailed them to me. I was so delighted but did not have any notion of what I would do with those wonderful pictures from the fifties! Two days later Eddie Lee called me and I knew by the way she said, "Eva Nell" that something was bad wrong. Her next words took my breath away. She said, "Clay didn't make it! He died this morning in Atlanta on the operating table!"
Tears welled up in my eyes. I just had to sit down at the kitchen table before I could even say a word. Then I said, "Eddie Lee! What am I going to do? I have got to keep my promise to Clay! I told him I would do something special with Johnny's pictures if he would give them to me. Oh Lord! What will I do?"
***********
JOHNNY'S STORY: "Fiddler of the Mountains – Attuned to the Life and Times of Johnny Mull"
AUTHOR: Eva Nell Mull Wike, PhD
Publisher: THE DOWNING COMPANY PUBLISHERS October 2013
Available on AMAZON.COM
———————-
The book is a great read. I hope you enjoyed Eva Nell's story about the book as much as I did! Who knew singing at the folk school one Friday night would lead to all this-you just never know do you?
Tipper