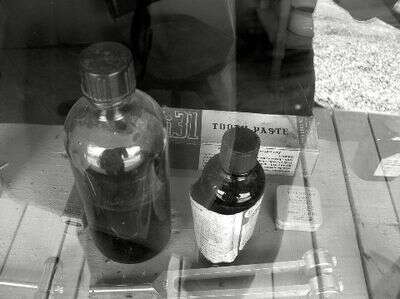 Ever have a toothache? In my opinion, a toothache is one of the most aggravating and painful problems to have. Lucky for folks today relief is usually just a phone call away.
Back in the day-things were a little different. Dentists weren't plentiful, it was hard to get into town to see one, and even if you could you might not have the money needed to pay the bill (the money issue still may keep us from seeing a dentist today!). As with most ailments there are tons of old medicinal remedies for toothaches in Appalachia, I've even tried a few myself.
A few years ago, I had a severe toothache. I kept taking over the counter pain medication and putting off going to the dentist. One night when the the pain was pretty bad, Pap told me to take peroxide and swish it around in my mouth then take a toothbrush and dip it in the peroxide and brush the tooth as hard as I could all around it.
Honestly, for about 15-20 minutes I thought I was going to pass out from the pain .It was almost unbearable, but after about 25 minutes it eased off and actually quit hurting.
Appalachian Toothache Remedies:
hold liquor in the mouth for several minutes then swallow
chew ragweed leaves
put cinnamon oil on the tooth
put clove oil on the tooth (I tried this one couldn't really tell that it helped)
put persimmon juice on the tooth
place a piece of cloth soaked in kerosene on the tooth (Yikes! I don't think anyone should do this!)
hold a warm bag of ashes, salt, or water on the cheek (I've tried this with a hot water bottle it seemed to help a little)
if the cavity is deep in the tooth the hole can be stuffed with soda, spider webs, aspirin, alum-that was burned, cow manure, or salt (double Yikes!)
Now for the really crazy ones:
take a splinter/piece of a tree that has been struck by lightning and pick the cavity
get up before sunrise each morning and say a Bible verse for 3 days
make a hole in a tree trunk a little higher than the toothache sufferers head;  cut a piece of their hair and place it in the hole and plug up the hole
Prevention tips:
carry a hog's head bone in your pocket
always put your left shoe on first
wear nutmeg around your neck
always cut your fingernails on Friday
never cut your fingernails on Friday
Ever tried any home remedies for a toothache?
Tipper
This post was originally published here on the Blind Pig in September of 2009.