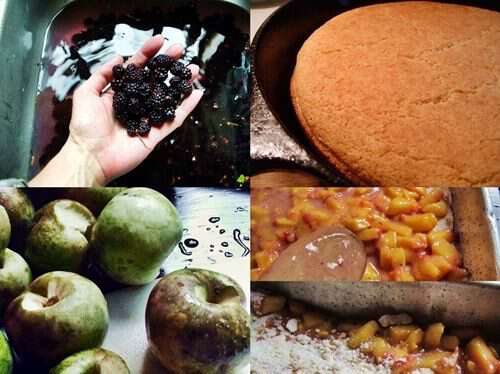 "You know, we didn't have no cans to can nothing in. We dried our blackberries, and in the winter, we'd take those dried blackberries and make 'em into a pie, just the same as if they were fresh. Put'em in a pan, put some water in and let e'm go to boiling, then put your bread in, your dough. And that was good!
And peaches. Peaches was the finest things dried, you know. People enjoyed eating them more than they do now. Oh, my goodness, I guess they did! They worked harder, and they enjoyed their food more.
I'd bake dried apple pies, tarts, fried apple pies. In some things, I believe the big old iron pots give the food-some of it, anyway-a better flavor. Now, where they boiled cabbage-you know, put a big bone of meat in and boil cabbage-now, that was really good! We had cornbread with it.
And soup beans! I used to have half-a-bushel of soup beans. Those were the white beans you grow, and the hulls were tough, and you shelled 'em. People would make great big old potfuls of stews, soups.
And when I had my children at home, you know, I'd make a pie in a dishpan. One of the smaller dishpans, you see. Crust on the bottom and a crust on the top. Now, that I baked in the oven, after we had an oven."
Iowa Patterson, 1881 Clay County NC
Excerpt from "Snowbird Gravy and Dishpan Pie" by Patsy Moore Ginns
—-
Tipper
Subscribe for FREE and get a daily dose of Appalachia in your inbox