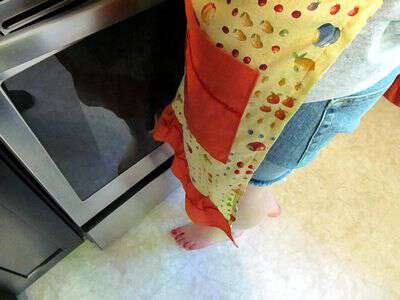 My Granny Gazzie always wore an apron. I suppose Mamaw did too but I don't really remember hers. Granny Gazzie's aprons had pockets on them for holding tissues or other handy items. Growing up Granny wore aprons too, but not all the time like Granny Gazzie.
Granny wore an apron when she had just come from work or church and needed to get supper or dinner cooked. And she always wears an apron when she's canning or putting up stuff.
Me-I never wear an apron. When I get home from work I change clothes before I start cooking or doing any other messy type of chore. I have 'around the house clothes' you know t-shirts with stains all over them that don't need protecting from a few additional stains.
Last summer there was big doings at work. I still needed to wear dress clothes, but I was also running back and forth managing food and generally pitching in where ever help was needed. One of the other ladies had a long apron she put on over her dress clothes. The apron had pockets to hold her keys and phone. It didn't take but one look at her apron to give me instant apron lust.
That night I rummaged around until I found an apron the girls had gotten me for Christmas back when they were in elementary school. The next day I was in apron heaven as I scurried back and forth between buildings and chores. My nice clothes were protected and my phone and keys were handy if I needed them.
Back in May I attended one of the loveliest weddings I have ever been too. It was held at the John C. Campbell Folk School. Not only was the wedding lovely it was fun too! Chatter and Chitter invited several friends to attend the event with them. There was music, dancing, a parade, well wishing, and good food. Believe it or not there was even a fiddler playing traffic guard.
Once the parade made it back to the festival barn we sat around and talked about how cool the wedding was and how good the food smelled and how we couldn't wait to taste it. Chitter said she was going to go see how long it might be till the buffet table was ready.
She was gone for a good while and we began to wonder where she went-I mean how could she disappear in the festival barn? Suddenly one of her friends poked me in the shoulder and pointed. Here came Chitter wearing a long apron carrying a tray of food. It was just one of the funniest things. She looked like she knew what she was doing, like she was catering the wedding herself. We looked at each other and busted out laughing.
Chatter said I'm going to go see what she thinks she's doing. As you can probably guess a short time later we saw Chitter wearing her own long apron, carrying her own tray of food. For the rest of the evening Chatter and Chitter wore their aprons like badges of honor.
The next morning I noticed the aprons laying in the living room. I said "Girls why did you bring these home you should have left them at the folk school." They informed me the lovely bride told them they could keep the aprons as payment for pitching in with the food. Now every time the girls cook they tie on their special aprons before getting started.
Once I started thinking about aprons it seemed everywhere I looked there was someone wearing one. The beginners group of the Kudzu Kickers Clogging Team recently learned a routine where they come out on the stage like little baby chicks. Mother Hen leads them on the stage-wearing a chicken themed apron.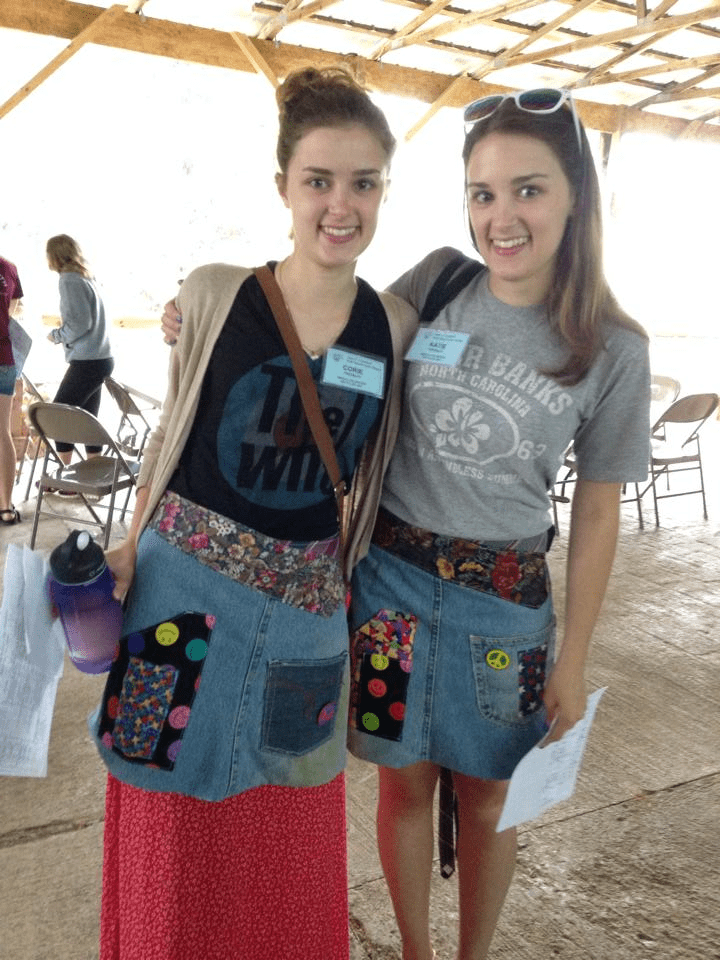 The first day of little middle I received the photo above on my phone. The girls were honored to receive another apron! They were assisting Kim Joris (aka best recycle artist EVER) in her class and Kim's mother made them an apron with deep pockets to wear for the week. Those pockets were perfect for holding the tools necessary to construct the creations the class made.
So now that I've assured you aprons are alive and well in Appalachia-how about at your house-are aprons a must?
Tipper