Today is the last day of my Mountain Flavors Class. It has been a blast! Fantastic students-fantastic food-and fantastic fellowship. I told the class "I won't know how to act next week when I'm back at my regular job." I'll be saying "When's the breakfast bell going to ring? Where's my dinner!!?" And I'm positive my co-workers will remind me I'm back in the real world and not at the folk school any more.
The last day of class will be about the 2 most common types of breads baked in Appalachia: biscuits and cornbread.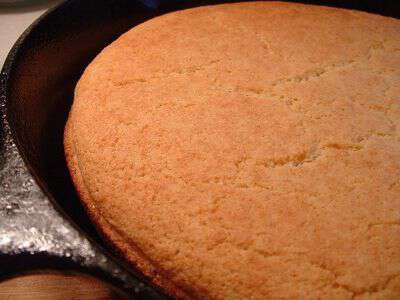 Folks in Appalachia-and in the south in general-take their cornbread seriously. I'm sure you've heard the jokes about how cornbread isn't supposed to be sweet and it isn't supposed to be cut in squares. Growing up we either had cornbread or biscuits with our meals-most of the time it was cornbread.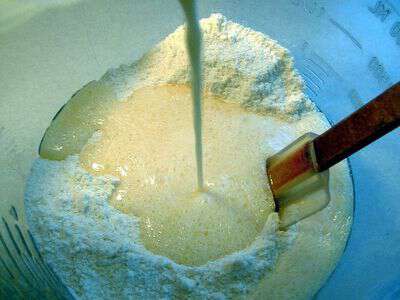 Various recipes for cornbread are used throughout the country-even in my house. I make my cornbread one way-and The Deer Hunter makes his a different way (thats him showing off his cornbread in the photo above). I think the absolute must for making good cornbread-is the pan. It must be cast iron and it must be heated first-to get the type of cornbread that is preferred at my house.
The Deer Hunter is one of those cooks who throws a little of this and a little of that in, cooks it all up-and viola it's delicious. For his cornbread he coats a cast iron pan with veg. oil, places it in the oven to heat, then-mixes up cornmeal (we both prefer white-and we use self-rising), a little flour, one egg, a little veg. oil, a dash of sugar, and some milk.  He sprinkles cornmeal on to the hot pan, pours the batter in-and bakes till done.
I'm one of those cooks who likes recipes:
Tipper's Cornbread
2 cups self rising white cornmeal
1 beaten egg
1/4 cup veg. oil
1 1/3 cup milk
shortening or lard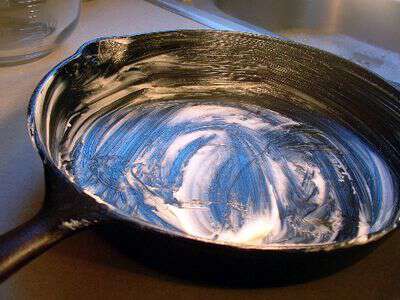 *before I even turn the oven on-I grease a cast iron pan liberally with shortening-if I happened to have real lard I'd use that. I put the pan in the oven and set it too 475 degrees.
*put 2 cups of white self-rising cornmeal into a mixing bowl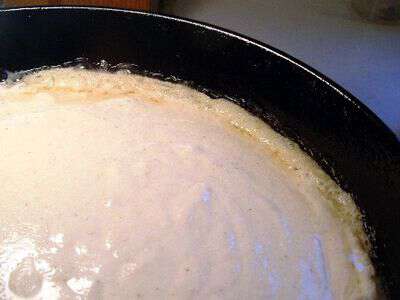 *mix egg, oil, and milk together-and pour into bowl with cornmeal and mix thoroughly.
Sometimes-if I'm low on milk I'll use a small can of evaporated milk mixed with a half cup of water to make up part of the 1 1/3 cups milk needed.
*once the oven has heated to 475-carefully take the hot pan out and pour the batter into it. You can see from the photo-the batter will instantly start to sizzle-so be careful not to get burned. Put pan back in oven and cook for 20 minutes or until done.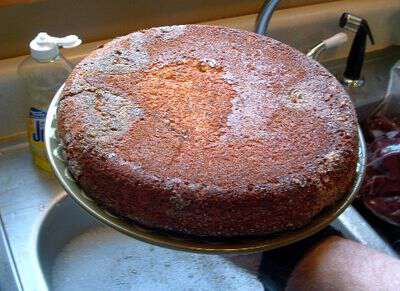 Many folks-love cornbread crumbled in a glass of milk-I never acquired a taste for it. Probably my favorite way to eat cornbread is straight from the oven slathered in butter-coming in a close second is cornbread with soup beans.
Tipper