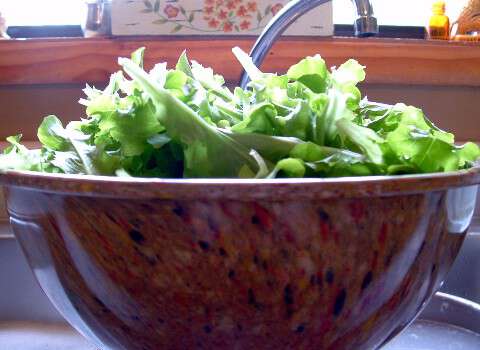 Ethelene Dyer Jones sent me the following piece about her memories of eating from the spring garden as a child:
A palatable memory from my childhood is the first taste of spring lettuce fresh from the garden and early spring onions, tender and juicy, cut over it. Then, to top off that treat after very few greens through the long winter (especially after the cabbage we'd "buried" in the keeping pit had run out), hot grease from freshly-fried side meat (bacon) was the salad dressing, poured over the greens until they wilted. It was indeed, "Kill Lettuce," a taste to kill for! And we all rooted to have our share, so delectable and fresh and tasty.

And the treat didn't end with the salad bowl being passed around at our table. After the lettuce started bearing, we children would often slip into the garden and "rob" Mother's lettuce bed. We'd pick the tender leaves fresh on site and eat them. Nowadays, we would frown at this repast not being washed and clean, but we could always find leaves fresh-washed with dew, and never gave a thought to it's otherwise having to be washed before consumption. After all, we were hungry, growing kids, and here was something delightful to eat, right in the garden. These "messes" of lettuce, whether served on our table or straight out of the lettuce bed in the garden, were benefits of having grown up on an Appalachian farm.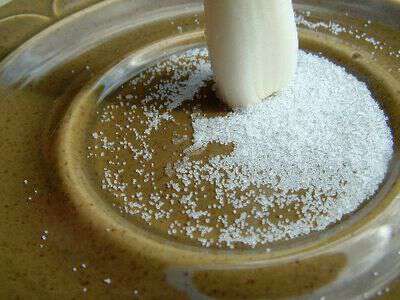 Ethelene's wonderful memories reminded me of a conversation I had with a friend the other day. We were talking about the goodness of eating the first fresh veggies from the garden in the spring of the year. She said her father was so crazy about green onions that he kept a spare salt shaker in the barn so he could eat onions right from the garden. She went on to tell me that at the super table her father sprinkled salt in a little mound and dipped his green onion in it as he eat it. She asked me if I had ever seen anyone else eat their onions with salt in the same way and I said yes-ME!
Granny eats her green onions by dipping every bite or so in salt. I'm sure that's why I eat mine the same way.
Tipper