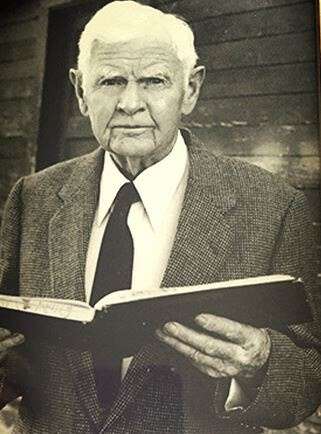 Quay Smathers
Excerpt from the Quay Smathers Memorial Singing School Website:
"Quay Smathers was born in Dutch Cove south of Canton, NC, in 1913 and lived his entire life in the community. He was a master carpenter, having built homes and churches throughout Western North Carolina that are still recognized for their craftsmanship and beauty.

Born into a musical family, Quay grew up singing shaped-notes with his family as well as playing old-time string band music with his cousins. His father, Gaston Smathers, led the historic Christian Harmony shaped-note singing at Morning Star Methodist Church in Dutch Cove until his death in 1944. Quay assumed the leadership role of the singing at only 35 years of age.

His mother, Lizzie Bracken Smathers, learned shaped-note singing from Rev. Benjamin Clark, a student of William Walker, compiler of The Christian Harmony. Quay often told the story of being awakened one night as a young boy by his mother singing "Angel Band" at the top of her lungs in her sleep.

Quay's brother Vaughn Smathers and sister Crystal Smathers Medford also participated in the Christian Harmony singings at Morning Star, and his uncle, George "Bruz" Smathers, sang until his death at age 101.

Quay played tenor banjo and guitar in a string band with his cousins as a young man, and with his daughters and sons-in-law later in life in the popular Dutch Cove Old Time String Band. But perhaps Quay was known on an even broader scale for his tireless efforts to teach the Blue Ridge style of shaped-note singing and officiate one of the oldest continuous shaped-note singings in the entire world.

Featured in documentaries, magazines, books, and even doctoral dissertations, Quay was the recipient of the prestigious North Carolina Heritage Award in 1990. He was honored in the NC Legislature and performed at the induction ceremony for dignitaries from throughout the state. Other accolades include the Bascomb Lamar Lunsford Award from Mars Hill College as well as inclusion in the 1974 Personalities of the South for "distinguished and outstanding service and achievements in the community and state."

Quay was in high demand to teach workshops for novice shaped-note singers at folk festivals as well as speaking at seminars for folklorists, ethno-musicologists and foreign academicians researching Early American music. He led numerous shaped-note singing schools at universities and churches, always caring more about mentoring new singers than any honors afforded to him by others.

Quay died in 1997 at age 84, and at the time many tributes were written about him in area newspapers that are still found online. Many of the  singers he taught drove from out-of-state to sing some of his favorite shaped-note hymns at his funeral.

Today, his daughter June Smathers-Jolley continues to lead the historic shaped-note singing at Morning Star United Methodist Church in Canton in her father's place, and Elizabeth Smathers-Shaw continues to teach folk music passed down to her by her father, including shaped-note singing, in Ohio."
The girls and I attended the Quay Smathers Memorial Singing School for the second time a few weeks ago. None of us are proficient at shape-note singing, but all of us have fallen in love with the folks who do know what they're doing-namely Liz and June who are Quay Smathers' daughters.
I've known about shape-note singing for many years, but never realized there are differing styles until we attended the Quay Smathers Memorial Singing School. They have a wonderful website with tons of information about shape-note singing. The site also offers many opportunities to listen to the Blue Ridge Style of shape-note singing. You can visit the website here.
For this week's picking and grinning in the kitchen spot I'm sharing my favorite song from the shape-note schools that I've attended In That Morning.
The Quay Smathers Memorial Singing School shares this information about the video:
"This video features a recording of Richard Moss leading "In That Morning" at Etowah, NC – circa 1973. (Richard is in the first photograph.) The recording was made by Dr. Edith Card for her dissertation research on the performance style of Christian Harmony shaped-note singing in the Blue Ridge Mountains at the time. Moss was a master of all leaders, casting a spell on the singers and bringing out, in his words, "a sad weeping sound" to the numerous minor songs found in the book. Photographs include other old-time leaders – Quay Smathers, Lyman Clark and Leonard Westmoreland, all from the Canton, NC, area. Singings depicted are from Mountain Heritage Day at Western Carolina University and Old Folks Day at Morning Star United Methodist Church in the Dutch Cove area of Canton, birthplace of Quay Smathers and scores of other Blue Ridge style shaped-note singers. Tucked among some of the singers in these photographs are several of the QSMSS teachers – Laura Boosinger, Elizabeth Smathers-Shaw, Lynn Shaw and Zack Allen, all of whom learned at the knees of the old-timers."
Although its doubtful that I will ever become proficient at shape-note singing, there is something about the hauntingly beautiful sound that speaks to my heart.
I hope you enjoyed the video, be on the look out for more Smathers history coming later this week. And be sure to jump over to the Quay Smathers Memorial Singing School website and poke around-I know you'll enjoy your visit!
Tipper
*Source: Video, photo, and all quoted text: Quay Smathers Memorial Singing School website