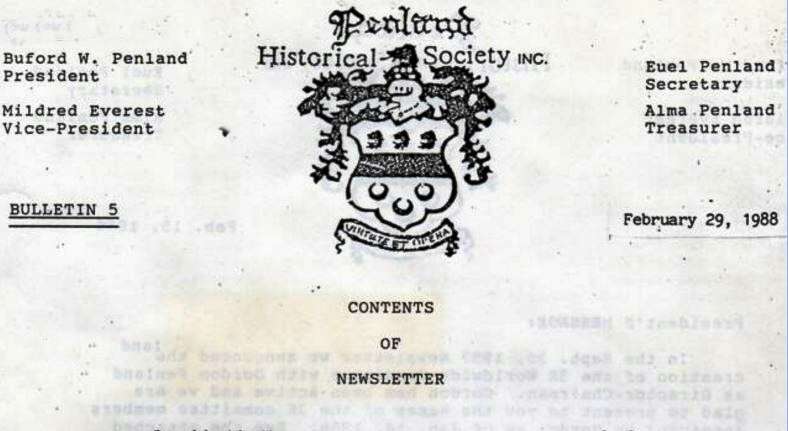 Since Veteran's Day is tomorrow, it seems like a fitting time to finish the story of Civil War Soldier W.C. Penland. Sadly, the story of his life doesn't end on a happy note.
The Penland Historical Society has graciously allowed me to share the following historical notes with you. They were written  by Buford W. Penland. The details explain the situation surrounding the penning of W.C.'s last letter.
"General Pegram  set up headquarters at Camp Ebenezer near Knoxville. Various companies of Battalion 7 were then sent to Big Creek Gap for scouting and picketing the road to Kentucky. In his letter of Aug. 14, 1863 from Camp Ebernezer, Williams [WC] said he had been sick for five or six days. As the troops moved toward Big Creek Gap William got sicker. His next letter Aug. 16, 1863 was from the home of Joel Bowling at Coal Creek (now Lake City) Tennessee. Obviously he was sicker than he thought, since Joel Bowling had to complete the letter and send it. William was able to sign it. Three days later William died.

The part of William's last letter written by Joel Bowling leaves the impression that Joel Bowling and William's father, Harve Monroe Penland, were friends. They probably were, for Joel Bowling had previously been postmaster at Fort Hembree in Clay County, N.C. This also explains why William, and Doc McConnell, both sick, were taken in and looked after by the Joel Bowling family."
In the Civil War most soldiers signed up and served with their neighbors and friends. This made it a certainty that W.C.'s family knew the men he wrote about in his letters. I'm not sure that knowing your fellow soldiers in an intimate manner would have made things easier or harder. You'd certainly be comforted by being surrounded by your people, but I imagine it would also make you feel their sorrow and pain on a deeper level because you'd know who waited at home for them to return.
As they say its a small world after all. Even though they were many many miles from home, W.C. and Doc McConnell found a familiar face of friendship during their time of need.
If you'd like to read the entirety of Buford W. Penland's historical notes written about the W.C. Penland Civil War Letters go here.
Please drop back by tomorrow for W.C.'s final letter written to those he loved.
Tipper