Today's guest post was written by Mary Lou McKillip.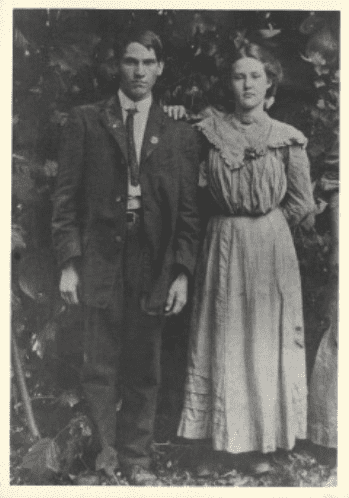 My Mother and Father's wedding picture taken in 1909-Jacob Farney Davis and Julia Soliva Mintz Davis. Their first child died in 1910 then in 1911 they had my oldest brother Everett. I was their last child-born in 1942. They had fourteen children. Dad lived to be 77 and Mother was 96 when she died.
Ebert's Shoes written by Mary Lou McKillip
This is a true story of long ago. My oldest brother was about thirteen years old when it took place. On Christmas he was selected to play Santa Claus for his younger siblings. I would venture to guess it was around 1923 or 1924. Through the years as Mama told the story to me, she would always laugh.
Mother said that winter the snow was so deep around their shanty it was almost up to the windows. Dad and Mama worked hard to survive and make ends meet, Mama made all their clothes and knit their socks. She had many homemade quilts on the beds for comfort. She went in the fall and got big flat rocks out of the creek to put in the edge of the fireplace and then wrapped the hot rocks in wool shawls and placed them at their feet for warmth on those cold winter nights.
Mama had all four children's Christmas presents made and wrapped with all the goodies that a good cook could fix for her little ones to eat. She made Everett a Santa suit out of one of Dad's old red union suits. She put cotton around his middle and gave him a big pillow to stuff in his suit. She also made him a red toboggan and a mask with a beard of cotton. She told me she was down right proud of his Santa suit even if she did make it herself.
Everett slipped out of the house when the younger ones weren't looking. The young ones were busy eating, laughing, and stringing popcorn for the Christmas tree. Everett had his sack full of presents Mama had made for everyone. She signaled for Everett to come inside. He beat on the door and yelled out Ho! Ho! Ho! Merry Christmas! Once Everett came inside, he began talking to each one of the children in a rough voice, asking them what he was supposed to bring them. He took Charlie the youngest on his knee and Charlie was clattering on about what he wanted and was having such a good time when all the sudden Charlie looked down and seen Santa's shoes. He got down and told Santa Claus to get off his Ebert's shoes. Charlie couldn't talk plain and the other children looked in amazement as he said again, "You have my Ebert's shoes on, now get them off Santa Claus!"
Everett passed out the presents to the rest of the children with Charlie still wanting him to get his Ebert's shoes off. Everett opened the door to brave the cold and pull off the costume. When Everett came back in to open his presents. Charlie said,"Ebert, I see you got your shoes back from that rascal Santa Claus." Everett told Charlie "Yes indeed Santa traded back my shoes in a hurry, when I was about to leave him without his shoes out there in the snow."
Charlie and the other children didn't realize Santa Claus was their big brother Everett and the whole family had a good and happy Christmas. Near the end of the night Charlie crawled in Everett's lap and asked "What did that shoes snatcher Santa Claus leave for you Ebert?"
I believe this was one of Mama's best Christmases. She truly loved to tell me the story of Ebert's shoes as Christmas came around each year. Mama, Dad, and all my siblings are gone now. But what a wonderful happy Christmas they had on Town House that Christmas Eve night, just above the town of Marble, N.C.
—————————
I hope you enjoyed Mary Lou's Christmas story as much as I did! Ebert's shoes-sounds like the title for a song-and I bet Mary Lou could write the song and sing it too if she decided to!
Tipper