Today's guestpost was written by Susanna Holstein aka Granny Sue. Photos were also provided by Granny Sue.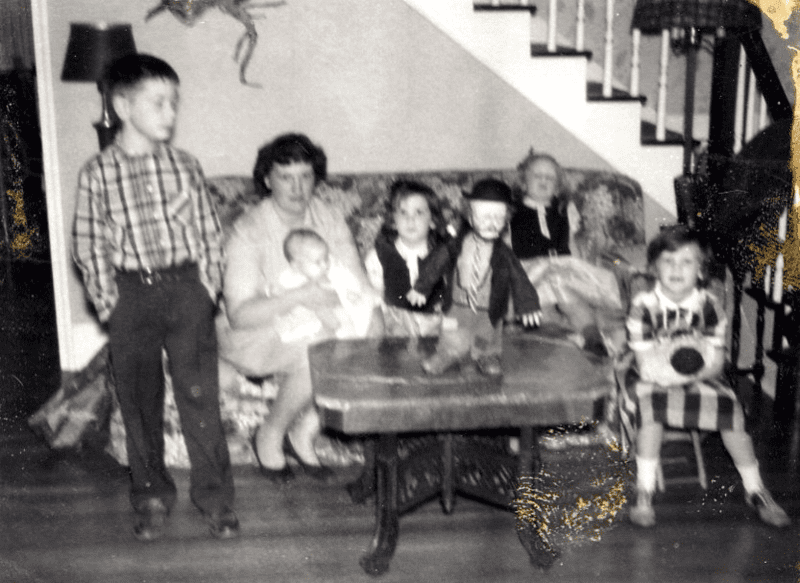 A photo of our family around 1957, on a visit to my grandmother's house during the holidays.
My mother grew up in the small village of Caldecote, England, just outside of Cambridgeshire. She left her home and country after marrying my father during World War II and came to the United States, bringing many of her Christmas traditions with her. Some of these harked back to ancient times, although my mother probably didn't realize that. She loved the holidays–the greenery, the music, the tree, baking, wrapping gifts and all the other trappings of the season. Christmas cards were a big part of the holidays, back then, and my parents sent literally hundreds. Postage was only 3 cents so it wasn't expensive to send them then! Fruitcake was always made on "stir-up" day, which was the day after Thanksgiving.
Greenery was never brought in until Christmas Eve, and the tree was not decorated until the dead of Christmas night. Sometimes my parents would have only 2 or 3 hours sleep before the first child was awake on Christmas morning. Mom probably didn't realize that this tradition harks back to the very old days when it was believed the veil between the spirit world and the living world was thinnest during the dark days of Solstice, so people did not bring greens inside or give any sign of celebrations about to begin until the last minute in case evil spirits lurking about might see and disrupt the festivities. She also saved mistletoe from one year to the next, another old superstition, and put a candle in the window on Christmas Eve–she said this was to light the way for the Christ child, which might be a more recent take on an old belief that a candle in the window also deterred evil spirits.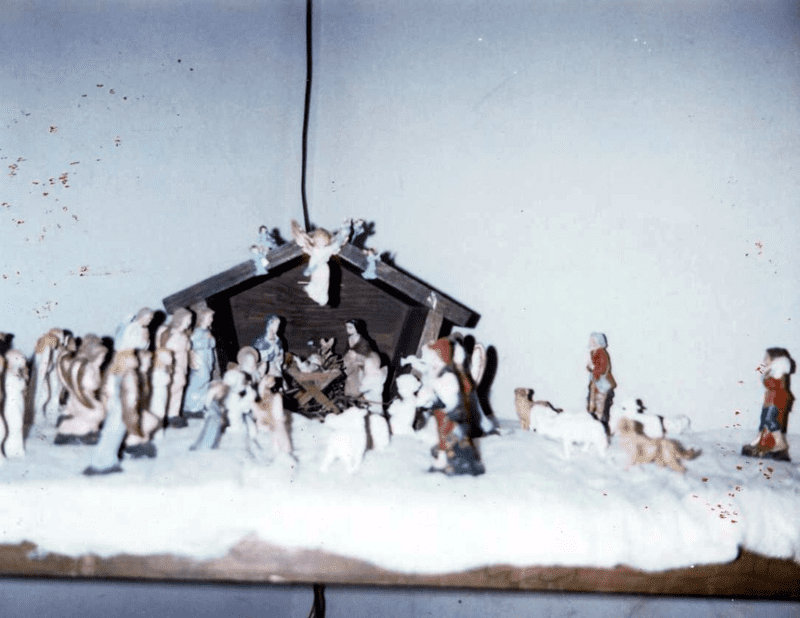 The manger scene in its early days.
Mom never forgot the reason for the season. Her manger scene (I don't ever remember her calling it a "creche") was huge and grew each year as more shepherds, angels and animals were added to the collection. Dad built a special corner shelf in the hallway specifically for her Christmas arrangement of her collection. There were certain rules about her manger scene. First, the baby Jesus was not put in until midnight on Christmas Eve–because, you see, he hadn't been born until then! His cradle remained empty all through December.
Mom would say to us, "You don't want the baby to have a hard bed, do you?" So for each good deed we did, we could add one straw (usually broken from the broom) to the cradle. We would work hard at first to do good deeds, like taking the little children for a walk, picking up strewn toys, or doing our work before we were asked, but after a few days the thrill would wear off and we'd forget about the straws. About mid-month Mom would look in the cradle and say, "Poor Baby! He'll have a hard bed this year!" We'd try harder to be good, and a few questionable straws probably got added to make sure the Baby was comfortable.
The Wise Men did not make their appearance until Epiphany, or Old Christmas, on January 5th. According to Mom, this was when they arrived, as they had a long journey and followed the star that appeared at the time of Jesus' birth. They would be on their way, marching across the mantle, over the back of the couch and across the tables until they finally arrived. The manger scene usually stayed in place until January 12th; Mom and Dad's anniversary was January 11th, which, according to my mother, was the real "Old Christmas."
We had little money, with thirteen children in the family, but we were rich in tradition and all the things that cost nothing but make holidays exciting and memorable.
——————-
I hope you enjoyed the guest post as much as I did. I think my favorite part was her Mother letting the children add a piece of straw to the manger for every good deed.
Granny Sue lives in WV and is a fantastic Appalachian story teller. You can find out more about her by visiting her blog-Granny Sue's News and Reviews. Granny Sue is headed down my way this spring for a storytelling gig-me and her are hatching a plan-if it all goes well she'll do a little story telling in Brasstown as well. I'll keep you posted on the hatching of the plan.
Tipper