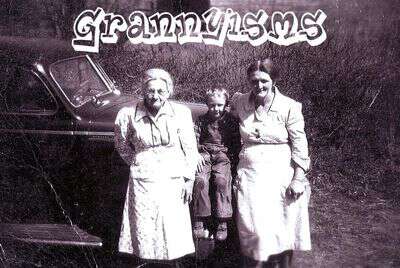 If you look in the left side-bar of this page-you'll see a link to my Grannyisms-page. I've been collecting memories-precious, funny, and inspiring about people's grandmothers on the Grannyisms page ever since I started the Blind Pig.
Below you can read a few of my favorite Grannyisms left by folks over the last several months.
Tipper said:
The whole Blind Pig Gang has fell in love with the music of Pokey LaFarge and The South City Three. The other day the girls were down at Granny and Pap's, and Pap was listening to their version of The Devil Ain't Lazy. Chitter said Granny looked over at her and said "The Devil ain't lazy but Granny is."
Christopher said:
My great grandmother, aka "Granny" was to me the strongest person I have ever known. As a child she was amazing to me. She was sweet and kind but defiantly not a women to be messed with. I remember the old house where she lived as if I were there yesterday, the back room full of mason jars, the old gas heaters and the front porch was the gathering place on a warm summers day. The saying that I remember most was "heavens to mergatroy", when something upset her. I miss her everyday and I dedicate this to her, Sadie Salome Smith 1915-2005
Eldonna said:
My Grandma W. had lots of sayings. My favorite: If anyone did something that she disapproved of she said, "We'll, I guess they're just as happy as if they had good sense."
She cooked a big hot meal for dinner at noon. Leftovers would get "het up" for supper.
The time between dinner and supper was called "evening." EXAMPLE: Bill came came by this evening, but he wouldn't stay for supper.
JJ said:
Well Tipper, here I am blogging about one of my Grannie's when I was trying to find a recipe for Pear Preserves like hers! I am so excited with this site….it DOES make me GRIN from ear to ear! I was blessed to have three Godly Grannies and have such good memories of each one. As I sit here watching my chickens scratching around in the garden, I think about my Great Grandma (though we said, "Grandmaw") living ON the Blue Ridge Parkway, (they sold some of it to the WPA when they were building it….) Her "Outhouse"…was decorated with an old wash bowl and pitcher, curtains on a tiny window, and a Sears & Roebuck catalog along side….the rooster crowing SO early in the morning as I snuggled down under the old feather tick. She would be in the kitchen building a fire in the cook stove. I miss the smells from the wood, her flitters, and bacon frying…oh my – I'm getting real nostalgic here!!! When she would call us in, we would 'spread' the table, sometimes 'set' was used. It was always on an old oil cloth tablecloth. She was a special woman who loved us and loved the Lord. Everyone knew it too!
Thank you for this website!
JJ
Marci said:
Whenever I would act up as a kid my Granny would always say "Now Marcie your Dennis is showing." This was her way of letting me know that I was being as stubborn and mule headed as the rest of the clan and she was losing patience with me. I love her and sure miss her now that I am a mom. I wish my son could of gotten to know her.
———————
I hope you enjoyed all the Grannyisms. There are many more on the Grannyisms page-so jump over there and read them. And please leave one about your grandmother.
For those of you who have already left one-there is no limit-just keep posting your memories as they come to you.
Granny is the crochet queen. She cranks out so many crocheted items we have a hard time trying figure out where to put them. And she makes so many things she forgets what she makes!
It never fails this time of the year Granny will see me or one of the girls wearing a hat, scarf, or sweater she's made and she'll say "Oh that's so pretty where did you get that?" We roll our eyes and say "Granny you made it!"
Leave a comment on this post for a chance to win one of Granny's crocheted creations.
*Giveaway ends Wednesday November 6, 2013 @ midnight.
For all of you who live in or near Murphy-Eva Nell will be having a signing for her new book "Fiddler" in down town Murphy at the "Curiosity Book Store" from 4:00 to 6:00 tomorrow-Wednesday November 6. Try to go say HOWDY to Eva Nell if you can!
Tipper