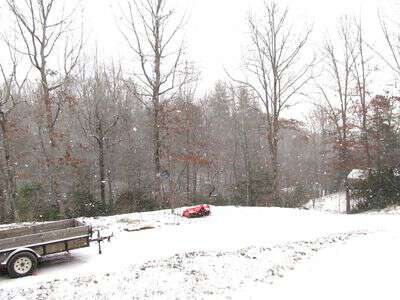 The old woman is losing her feathers around the Blind Pig house. In case you didn't know-that means it's been snowing.
I have never heard anyone use the saying about the old woman losing her feathers to describe falling snow-but its an entry in my Dictionary of Smoky Mountain English.
When Paul was little he was a regular comedian. He did the cutest Howard Cosell impression you ever seen. I wish we'd had video cameras back then. About the same time that he was cracking people up with his Cosell jokes-he also had this elaborate story about how the reason it snowed was the clouds got soggy from rain and then fell from the sky. I can still see him standing at Granny Gazzie's explaining it to a room full of people-Granny Gazzie, Aunt Faye, Uncle Woodrow, Uncle Byers, and Aunt Grace. Various other people were probably crammed into Granny Gazzie's tiny living room too-Uncle Henry, Uncle Lucky, Aunt Jean, of course us, and probably a few cousins as well. Granny Gazzie's was always crowded on Sunday afternoons. Paul was never backward like I was-he loved being in the lime light-while I preferred hiding behind Pap or Granny.
————————-
When we went to bed on Sunday January 5 it was 53 degrees. I'm an early bird-but was awaken by a call from work at about 9:30 or so. After doing what I needed to do for them I settled back in to sleep.
Then The Deer Hunter announces-you know we probably should move at least one vehicle to the bottom of the hill. After a little back and forth we decided to move both. Walking back up the drive in the dark I said there is no way we needed to move the cars its like summer out here. The Deer Hunter said you'll see in the morning.
Before getting back into bed-a little after 10:30-I checked and it was 55 degrees. When I woke up at about 7:00 am the next morning-it was 24 degrees and snowing hard. A couple of hours later it was still snowing and the temp had dropped to 19 degrees and continued to drop throughout the day.
By this morning-January 7-the temperature has fallen all the way to zero.
Tipper
Appalachia Through My Eyes – A series of photographs from my life in Southern Appalachia.