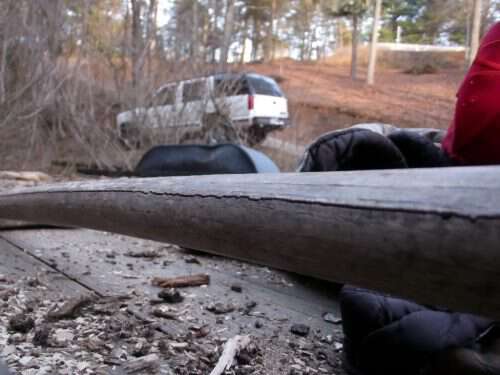 Time for this month's Appalachian Vocabulary Test-take it and see how you do:
Laid up
Law
Let on
Lit into
Limber-jack
Laid up: sick, hurt, bedridden. "Down to Clay's I heard Tony was laid up with his back again. Theys planning a pounding for him and his family over at the church."
Law: expression of exasperation; officer of the law. "She got caught in that road block the law set up on the county bridge. I told her and told her-her conniving ways would catch up with her someday and she'd be sorry. And now it's finally happened."
Let on: pretend. "When her Daddy come home from work me and her sister let on we didn't know where she was. We told him she never come from school. Then as soon as he got to worrying she jumped out from behind the door. He liked to have beat us all for making him worry."
Lit into: to attack verbally or physically. "Before I could stop her she lit into him. Screaming and a hollering and all the while she beat him in the chest with her car keys. It took 4 of us to get her to stop."
Limber-jack: person with flexible legs and arms. "After a few pulls of liquor he always jumps around like a limber-jack. Makes me mad as a hornet to see him act like such a fool."
I use-and hear all but number 5 on a regular basis. The one person I've heard use 'limber-jack' is Pap.
Leave me a comment and tell me how you did on the test.
Tipper