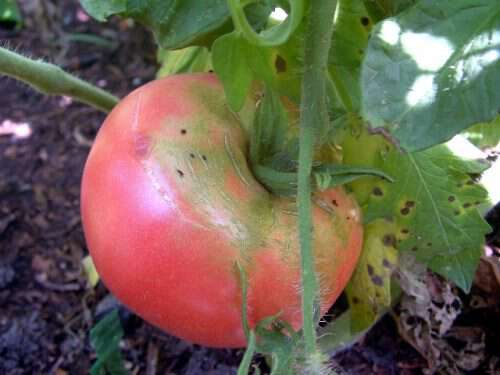 Like most things in life, when it comes to saving heirloom tomato seeds to grow next year, there are numerous different routes to take.
When Pap was a boy everyone saved their seeds from year to year. He remembers his mother putting the tomato seeds in a little cloth; folding it up; running water over it; squeezing the water out; then laying the seeds on a piece of paper to dry. This is basically the method I used too. Miss Cindy remembers her Grandmother saving tomato seeds in this manner-and when the seeds were dry on the paper-her Grandmother simply rolled it up and stored the paper in a cool dry place.
The Canned Quilter from Hickery Holler Farm uses a similar method and it's worked well for her for over 10 years:
I put my seeds in water. ( tomato/ cantaloupe etc…) The seeds usually go to the bottom and the membranes etc rise to the top. When they separate you can take a spoon or something and scoop the gunk off the top and pour the water and seed remaining through a colander. (floaters I pitch) Then I take the seeds and put them on newspaper and let them dry. From there I have little paper seed envelopes that I label with the date and variety. From there they all go into an open plastic bin that I keep in my cool pantry.  
By googling around I found several sites that suggested it was best to save seeds by a fermenting method like this:
Place the container of seeds in a warm location; a sunny windowsill or the top of the refrigerator are both excellent sites to place the container of seeds. Now Mother Nature will take over and begin to ferment the seed and water mixture. This takes about two or three days. Each night remove the plastic-wrap, stir the seed and water mixture, and then replace the plastic-wrap, if you use a new sheet of plastic-wrap then don't forget to put a small hole in it for air-transpiration. The top of the liquid will look "scummy" when the fermentation process has seperated the "goo" from the seeds. It also helps destroy many of the possible tomato diseases that can be harbored by seeds.
Take the container of fermented seeds to the sink and with a spoon carefully remove the scummy surface. Then pour the container's contents into a fine kitchen sieve and rinse the seeds with water several times…stir them while they're in the sieve to assure that all surfaces are thoroughly rinsed. Give a few sharp taps to the sieve to help remove as much loose water as possible from the seeds.
Line an open plate with a piece of waxed paper or a large automatic-drip coffee filter. Place the rinsed seeds onto the wax paper or coffee filter and spread them about so they are in a single layer. Place the plate in a safe location where the seeds can dry for a few days. Stir the seeds a few times during the drying process to assure that all their surfaces are evenly dry. Spread them out again into a single layer after each time you've stirred them. Tomato seeds are thick and can take up to a week to dry thoroughly. If you're having a rainy week that drying time may lengthen by a few days.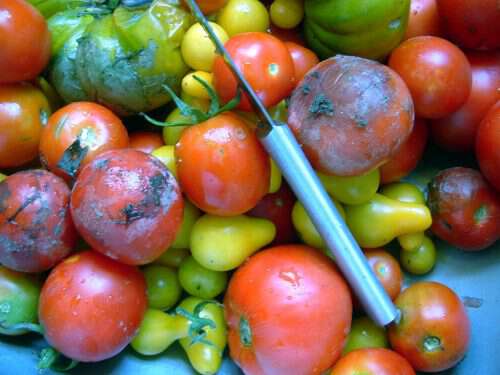 But the easiest and most interesting method of saving tomato seeds for next year's garden comes from David Templeton.
Throughout the growing season David throws a few tomatoes in a portion of his garden that he isn't using at the moment. After the summer garden is done-David tills up the entire garden-letting the leftover plant material enrich the dirt over the winter. At the same time he tills up the dirt-he is also distributing seeds from the tomatoes he threw in a corner of the garden. Next year once the soil warms those seeds begin to sprout-kinda like volunteer plants you sometimes get in the garden. David carefully transplants the seedlings into the portion of the garden he desires-and there you go. I guess you could say David saves his seed in the dirt.
As I said before-this is only the 2nd year we've grown heirloom tomatoes-and the 1st year we've tried to save seed. I will admit I've been feeling pretty proud of myself-thinking I took charge of my tomato growing for years to come-dreaming of all the heirlooms I'd be producing next year and the year after and the year after… Until-Warren threw a wrench in my plan.
You see yesterday-Warren left a comment asking me if I ever worried about cross-pollination with the heirlooms. It only took one Google search to give me a sinking feeling (thanks again warren) in the pit of my stomach. See many folks believe if you're going to save seeds from year to year you must plant different varieties of heirlooms far apart-one site even said 1/4 of a mile-I wish I had a garden like that! So now I'm wondering if my seeds will be worth anything or not (thanks warren).
Seriously-I'm thankful Warren left the comment-I obviously didn't do my homework on saving seeds from heirloom tomatoes. If you haven't ever visited Warren's blog-you should. He writes about his life in the hills of WV-his great family, his bees, his garden, his desire to lick flag poles-I should also mention he has a super sense of humor-which you could probably tell by the flag pole thing.
I'm still investigating the cross pollination issue-and I'll be sure to let you know what I come up with. If you have any info on cross pollination or a tip about how you save heirloom tomato seeds-please leave a comment.
Tipper