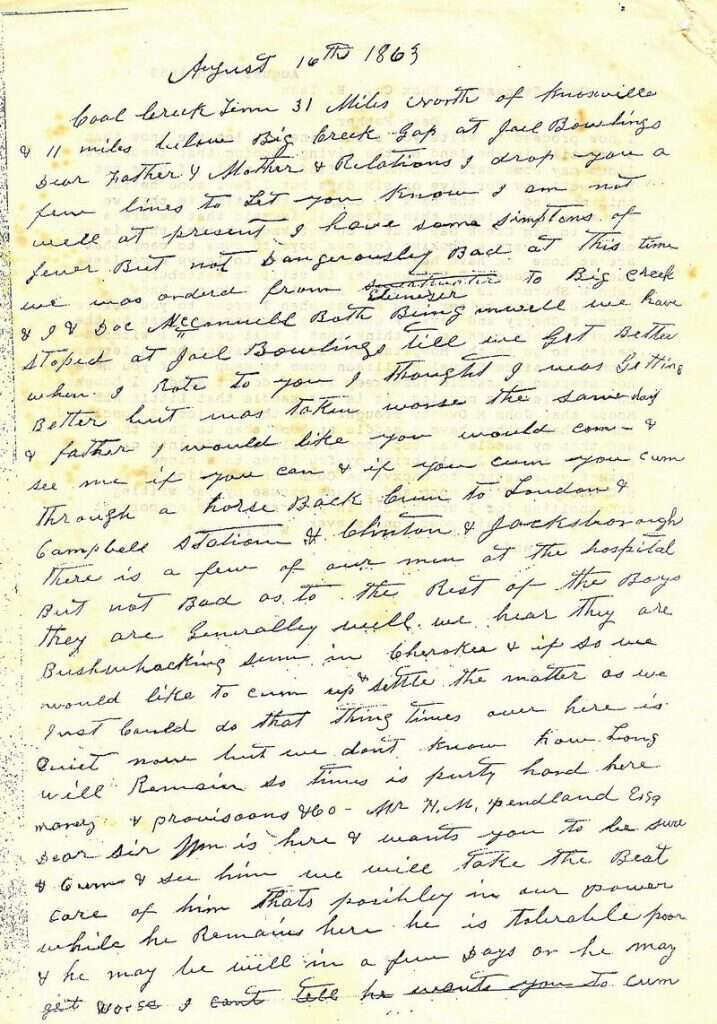 When we last checked in with W.C. Penland it was March 23 1863. He wrote today's letter almost exactly a month later. (if you want to read the other civil war letters click here)
Apr 22, 1863
April the 22nd
I feel better this morning than I did yesterday   M A Martin is in very good health   Cousin Robert Alexander and the two Crawford are both well   we will not stay at this place long   I will send you one hundred dollars by Liut Cunningham   I would have had more to have sent but I have been loaning some money   I have lent one hundred and twenty five dollars   Mother I want you to send me that coat or the cloth   I do not know when you will have another chance to send it   I also want a pair of pants   That I believe is all that I want at the present   I have heard that Daniel Woods has got to making hats I want you to have me a hat made and send it to me   I want it to be made out of fur if it can possibly be got   tell him to do his best on it but not to make it too powerful heavy ha   I want you to write to me whether Big Jason Ledfords land is worth Seven hundred dollars or not   He told me that he would take that for it if I would give    I want you to write to me as soon as this comes to hand and tell me whether it is worth that money or not   I will send you some envelopes also I would sent you more but I have not got them at the present   I must bring my letter to a close   I have said enough with it was better
so no more at present but remains your affectionate son as ever
                                                 W C Penland
A few things about this letter that make me wonder:
WC didn't write the address of where he is at the top of this letter like he did on the others.
He's ask for the coat or cloth in several letters-why hasn't he got it yet?
Martin and Ledford are still common names in Clay County-how many of the present day Martins and Ledfords are related to M A and Big Jason?
Seems like he has a lot of money-for that time period of history-he has enough to send home and enough to loan out.
How many acres would $700 buy?
My favorite part of the letter- I have heard that Daniel Woods has got to making hats I want you to have me a hat made and send it to me   I want it to be made out of fur if it can possibly be got   tell him to do his best on it but not to make it too powerful heavy

ha
Hope you'll leave me a comment with your thoughts about the letter.
Tipper