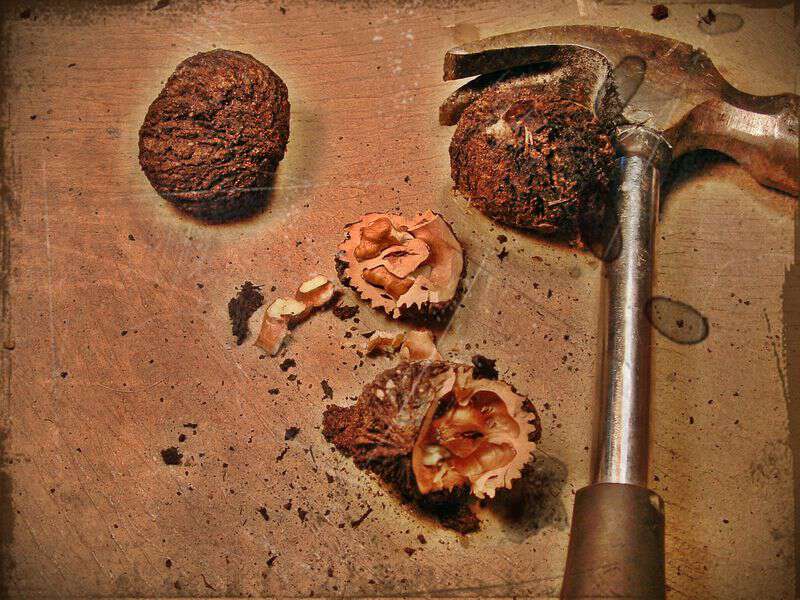 The Champion Walnut-Cracker ~ Dutch Cove written by John Parris
The old man sat in a split-bottomed, straight-backed chair cracking out walnuts with a hammer on a locust stump in the front of his woodshed.
"The preacher down at Morning Star calls me the champion walnut-cracker of Haywood County," he said. "That's what he told me. And I don't guess anybody else does crack as many walnuts." George Smathers grinned and his eyes twinkled.
"There's one thing for a fact," he said. "You won't find a walnut-cracker as old as me. I'm just nine months away from being a hundred years old, the oldest man that ever lived in the Dutch Cove."
"Got in the walnut-crackin' business about seven or eight years ago so I'd have me a little extra spendin' money. The womenfolks around here and down at Canton take all I can crack out. they put 'em in their Christmas cakes. There's nothin' finer than a walnut cake."
"I generally sell about forty pounds of walnut meat a year. I cracked out fifty pounds last fall. I figure on knockin' out forty or fifty pounds this year. Got $3.75 cents a pound last year, but I'm goin' to get $4 this year or not sell'em at all, just throw 'em away.
"I don't figure that's too high, what with all the work that goes into it. You have to get out and go huntin' all over this country for walnuts. Then you've got to hull'em. Then you've got to dry'em. And then you've got to crack 'em. If it wasn't for havin' somethin' to pass off my time, I wouldn't bother with 'em."
(Excerpt from the book Mountain Cooking written by John Parris 1978)
——————————-
The Deer Hunter grew up in the Dutch Cove where George Smathers lived. He doesn't remember The Champion Walnut-Cracker, but he did go to Morning Star Elementary School and he has great memories of roaming the fields in the cove with his dog and with his best friend Eric who lived just down the road a ways.
Tipper