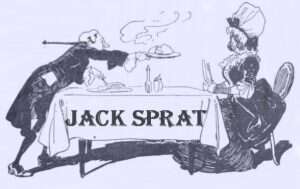 Jack Sprat could eat no fat,
His wife could eat no lean.
And so betwixt the two of them,
They licked the platter clean.
————
I always liked this rhyme. What's not to like-Jack and his wife got along perfectly and life was good because they didn't waste anything-a truly happy marriage right? Well at least that's how I thought of it in my head.
According to the book Heavy Words Lightly Thrown by Chris Roberts there is a little more to the rhyme than matrimonial harmony.
The poem can be traced all the way back to the 1600s. Charles I of England, along with his wife, petitioned Parliament for funds to go to war with Spain. The funding was denied and this left Charles in a pickle if you will.
Since Charles was basically out of money-he had no fat. And his wife's fancy tastes earned her the moniker of not being able to abide anything 'lean' or less than her high (fat) standards.
Charles disbanded Parliament and imposed a tax on the people to pay for the war. In other words he and his wife licked the folks of England clean in an effort to maintain their lifestyle.
Ok-that all makes sense but who was Jack Sprat? Roberts says the term Jack Sprat was used to describe someone of small stature-someone who was short.
So I suppose Jack Sprat was code for: the king who acts like a very small man instead of the large man he should be.
Kings, queens, wars, taxes, and slurs-and here I thought the rhyme was about peace and love.
Tipper
*Source: Roberts, Chris. Heavy words lightly thrown: the reason behind the rhyme. New York: Gotham Books, 20062005. Print.