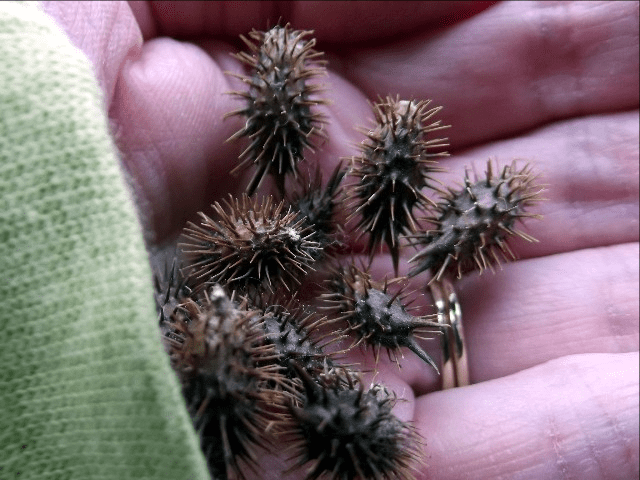 The outdated answering-fax-copier-phone machine that sits on my desk has a little alcove like place underneath it for the paper to come out. The handful of cuckle burrs above has been sitting in that space for almost a year.
I can't even remember where I picked them up. Before they came to live on my desk they lived in a coat pocket for several months. It was an old coat we keep handy for a dash down to Granny's or to throw out scraps when its cold out.
Chatter put the coat on one day and stuck her hand in the pocket. After a good scream  she said "Who in the world put cuckle burrs in this pocket?" I said the first thing that popped into my mind "I did. And they're my friends so leave them in there!!" Well you can only imagine the response that statement brought from my teenage daughter. It was after that episode that I rescued the cuckle burrs from the pocket and made them comfortable in their new home under the telephone.
I haven't a clue what made me say they were my friends, but after seeing how Chatter reacted I brought the subject up as often as I could over the next few weeks, asking her if she'd like to hold one and making sure she overheard me talking to them on a regular basis-kinda mean uh?
Cuckle burrs remind me of childhood days: of tromping through fields; playing hide-n-seek; walking home from the bus stop; of the big garden at the end of Mamaw and Papaw's little house; of making my younger cousin run around screaming when I told her they were bees and put them in her hair.
Do you believe you can make crafts from cuckle burrs? I didn't either until I discovered these: Cuckle Burr Poodles. I guess you know what Chatter's going to find in her stocking on Christmas morning don't you?
Tipper
Appalachia Through My Eyes – A series of photographs from my life in Southern Appalachia.