Today I have an extra special treat for you-a guest post written by Jim Casada. I know you'll enjoy Jim's memories and thoughts on the tradtional Thanksgiving he enjoyed as a boy growing up in the Smoky Mountains. And he even shares one of his favorite recipes to boot!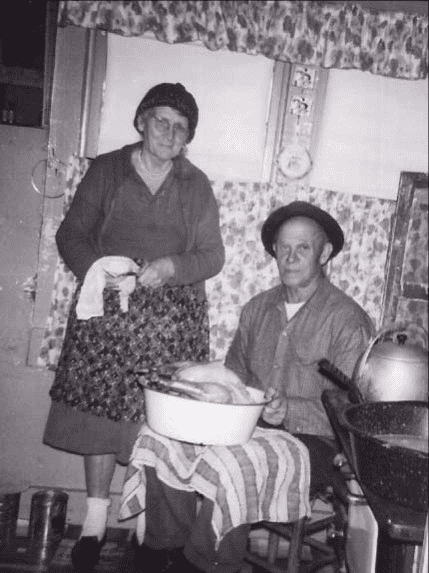 HIGH COUNTRY THANKSGIVING TRADITIONS by Jim Casada (copyright 2011)
Most high country families, and certainly those whose roots run deep in the soil of the Smokies, have food traditions associated with the Thanksgiving holiday. They may have other cherished practices as well—maybe a game of flag football, a rabbit hunt on the opening day for cottontails, a hike to an old home place where ancestors lived prior to the creation of the Great Smoky Mountains National Park, or something similar. Whatever the case, it is a day not only for giving thanks but for reflection and warm remembrance.
For me personally, it is a day when nostalgia reigns supreme. Much of my thankfulness involves looking back on my youth and early days of manhood with fond recollections of family folkways associated with Thanksgiving. Many, although by no means all, of those enduring memories revolve around food. They encompass not only the actual menu items but how they were procured, the methods of preparation, and the simple fact of identification with the holiday.
Meats of mountain Thanksgivings are as good a place as any to start when it comes to the foodstuffs which have always held my heart (and my stomach, I guess) and meant the most to me. Typically, up until about the time I became a teenager and Grandpa Joe stopped raising hogs, we enjoyed not one but two meats. Since hog killin' time had, likely as not, occurred only a few days earlier, there might be fried tenderloin for breakfast. Served along with cathead biscuits, sawmill gravy, eggs, grits, and a variety of what Grandpa Joe "extras" with choices including sourwood honey, molasses, jelly, and a commercial corn syrup known as Dixie Dew, there was fodder aplenty to start the day. If perchance hog killin' time that particular year had taken place earlier in the month, canned sausage or pink, moist, and indescribably delicious slices of home-cured country ham left from the previous fall would take the place of tenderloin.
On Thanksgiving we ate only two meals—the aforementioned hearty breakfast and the family feast in mid- to late afternoon. If one got peckish in the middle of the day, a state which was pretty much perpetual for greedy-gut teenagers such as yours truly, there was always a cold biscuit or some leftover cornbread, along with a glass of milk, for temporary sustenance.
Although I recall having store-bought turkey once I reached early adulthood, the centerpiece on the festive holiday table for many years was baked chicken. One chicken wouldn't suffice, thanks to the fact that an extended family of grandparents, aunts, uncles, and cousins would all enjoy the feast. The manner in which the free-range chickens were procured fascinated me, and I loved joining Grandpa in what he called the "getting and killin" of chickens.
Grandpa Joe kept a goodly flock of laying hens throughout the year, and this flock was regularly expanded in the spring by the addition of a bunch of "biddies" (newly hatched chicks). Sometimes these were obtained at the local Farmers' Federation store and on other occasions they were hatched by the resident hens. Either way, most of these additions disappeared over the course of the summer and early fall, since young, tender fryers provided the standard makin's for Sunday dinner. In our family, as Bobby Bare sang in a moving song, it was "chicken every Sunday, Lord, chicken every Sunday."
These fryers were dispatched the same way all chickens for the table were handled in that time and place—either by wringing their necks or chopping off their heads. There's no pantywaist prissiness and lollipop sentimentalism when it comes to living close to the good earth. You understand the cycle of life and the necessity of death, and it is done in a straightforward, no-nonsense manner.
It was the way the chickens destined for the Thanksgiving table met with the executioner (Grandpa) which fascinated me, and rest assured I understood where meat came from in a manner which probably nine out of ten of today's youngsters don't. I may not have been exactly bloodthirsty, but I would be lying if I said I took no interest in the dispatching of hogs, chickens, or, for that matter, wild game.
Grandpa staunchly maintained that lifting a hen or two from the roost at night, or worse still, chasing them all over the chicken lot until one was cornered, constituted bad business. "Ain't no one with any sense going to get their table hens that way," he would say. In his view it put them off their laying, not to mention involving expenditure of way too much energy. Accordingly, Grandpa "fished" for his chickens, no matter whether they were summertime fryers or Thanksgiving baking hens.
He had an exceptionally long cane pole of precisely the same kind he used for fishing. It rested atop two nails in the chicken house except when put to its intended purpose. The only real difference between this cane and the ones he used for fishing was its length—the better part of 20 feet. Attached to the end of the pole was a short strand of the old-time black nylon line once commonly used with casting outfits, and the line was equipped with a medium-sized fish hook.
Grandpa's use of this tool was the essence of simplicity. He would scatter a handful of scratch feed in an open area of the chicken lot, back off until the hens were busy pecking away, and then present the hook, baited with a small bit of corn, to the chickens. This presentation was not a willy-nilly one. Instead, he tried to place the bait in front of hens which had been remiss in their egg-laying duties.
Once a hen swallowed the hook, she would be pulled in, squawking and flopping in indignant protest, as Grandpa progressed hand over hand from his end of the pole to the one holding the chicken. He would dispatch that hen and catch a second one the same way. Then it was time to remove the entrails, carefully setting aside the giblets for use with gravy and dressing, dunk the carcass in scalding hot water, and pluck the birds. With the birds duly plucked and singed, they were turned over to Grandma Minnie. She would work her magic with them the next day, and the mere thought of getting into the middle of one of those baked hens, where miniature yolks of eggs in the making provided a special treat on Thanksgiving Day, still sets my salivary glands in overdrive.
Along with baked hens, there would be a splendid array of side dishes, pickles, relishes, and other provender. Standard fare include an aunt's ambrosia, a big pot of either leatherbritches or October beans cooked with streaked meat, greens with small cubes of turnips blended in, creamed corn, sweet potato casserole, cranberry relish, sweet pickles, watermelon rind pickles, pickled peaches, chowchow (for the leatherbritches or October beans), pickled okra, pickled beets, hominy, and more. Other than the baked chicken though, two dishes stand out in my mind as truly emblematic of a mountain Thanksgiving.
One was the dressing which went with the turkey and giblet gravy. It was prepared with cornbread made from stone-ground meal, but the key to its distinctiveness was inclusion of plenty of chopped chestnut meats. Alas, these weren't the American chestnut which my father and grandfather had known, but instead mast from a Chinese chestnut which grew on our place. To me they were delicious, but Grandpa would often say, about as emotionally moved as you would ever see this hickory-tough old man, "they just ain't the same."
A half century has come and gone since those halcyon days of youth, but in a few days (I'm writing this on Nov. 13) my wife will be preparing chestnut meats and putting them aside to make dressing. It is a continuation of a family tradition which means a great deal to me; a memory to cherish and a foodstuff to fancy for all my days.
The other item which had special appeal, then and now, was stack cake. This was one example of many in which Grandma Minnie's culinary genius came to the forefront. She always made her stack cakes using six layers of cake and applesauce from fruit she had dried in the late summer or early fall. The cake would be prepared three or four days in advance, and by the time Thanksgiving rolled around the sauce between each layer had mixed and married with the cake in a marriage of tastes which was almost magical. No matter how much I ate, there was always room left for a big slice of stack cake along with, for good measure, a slightly smaller slice of pumpkin chiffon pie which Mom prepared,
All of the above-named dishes, with orderly ranks of biscuits, hot cornbread, rolls, and maybe some type of sliced tea cake arrayed alongside trenchers, bowls, and platters, would go on display as the women folks worked their collective wonders and brought it all together in a fragrant, delectable finish. The bounty atop the big old dining room table and sideboard at the home of my paternal grandparents was a joy to behold. When the time was at hand and all was in readiness, the entire family would gather around the food, linking hands in a sense of thankfulness and togetherness.
Then in a voice so soft you had to strain to hear him, Grandpa Joe would bless the feast. He always concluded with the same words: "You'uns see what's before you. Eat hearty."
Rest assured I followed his suggestion with a degree of gustatory delight that must have been a source of amazement to my elders. Looking back though, it is not only the wonderful food memories of those simpler days and simpler ways of long ago Novembers which warm my heart and fill me with thanksgiving. I now know that all aspects of a Smoky Mountain boyhood formed a treasure which provided me pleasure beyond measure.
***********
SMOKY MOUNTAIN STACK CAKE
4 cups flour
1 teaspoon salt
½ teaspoon baking soda
2 teaspoons baking powder
½ cup shortening
1 cup sugar
1 cup molasses
1 cup sweet milk
3 eggs
Sift dry ingredients except sugar together, cream the shortening, then add and mix in sugar a little at a time. Add molasses and blend thoroughly. Then add milk and eggs, beating until smooth. Pour batter a half inch deep in greased nine-inch pans. The batter will make six layers.
After layers of cake have been removed from the oven and cooled, add sauce made from dried apples between each layer and place stack cake in a closed container or the refrigerator. You can also use peach butter made from dried peaches or blackberry jam as a filler between the layers.
***********
I hope you enjoyed Jim's memories as much as I did. Be sure to jump over to his website and check out his books. While you're there sign up for his monthly newsletter-its free, interesting to read, and always has recipes to try out.
Tipper