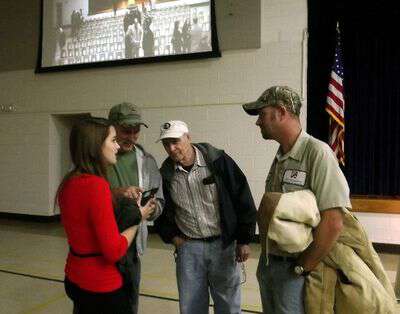 More than once I've wondered what my Papaw would think about cell phones. I'm positive he'd have an insightful thought or 2 on the subject.
The Deer Hunter has one-he needs it for work-but its also useful too call his parents and friends who live out of town-since they too have cell phones with the same carrier-the calls are free-but you know how all that works I'm sure.
Me-I don't have a cell phone. For one thing they're expensive-for the other-if I had one I wouldn't even be able to go to the grocery store without The Deer Hunter, Granny, or BOTH calling me.
Oh I have one of those trac phones that Granny bought me-you know so if I'm accosted between Hayesville and Brasstown I can make a quick call for help-Granny's a worrier.
All you have to do is ask the girls or The Deer Hunter and they'll tell you-its pointless to try to call me on the phone-if I remember to take it-I usually don't have it turned on. Actually, I haven't a clue where its at right now-I know I haven't used it since September-so that tells you I'm not very experienced with the whole cell phone phenomenon.
The girls both have walmart phones they bought themselves-they only use them for texting-you can't call or receive calls on them. Each month they buy a 10 dollar unlimited texting card with their money-and thats how they roll. And let me telling you-the sound of incessant texting is the most annoying sound I have ever heard on this Earth.
The other night I realized what a cell phone novice I really am. After the Veteran's Day program at the girls' school, Uncle Henry pulled out his cell phone and entertained us with videos and funny pictures he had on it. Uncle Henry has a cell phone and knows how to use it-that pretty much sums up cell phones in Appalachia.
Tipper
Appalachia Through My Eyes – A series of photographs from my life in Southern Appalachia.