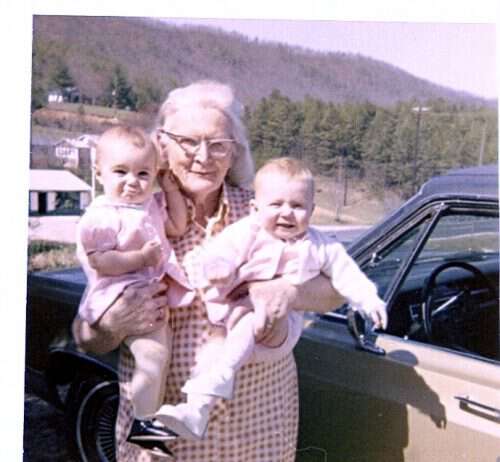 Granny Gazzie holding Tina and Tipper (cousins-we were born around the same time) 
Time for this month's Appalachian Vocabulary Test-it's all about the make.
Make (1)
Make (2)
Make (3)
Make in one's mind
Make on
Make (1): train/study in a profession. "I heard that oldest Jenkins boy made a helicopter pilot."
Make (2): to grow into or become. "During the depression I grew up and made a young woman. I never forgot the lessons I learned during those hard times."
Make (3): growing crops. "Last summer hardly any of our squash made. They all had blooms but no squash. This year I'm going to plant them in a different place and see if they don't make better."
Make in one's mind: to determine or decide on an issue. "After growing up in the depression I made in my mind that my children would never have to go hungry no matter what I had to do."
Make on: to work on. "I'm plumb wore out. All week long we've been making on canning greenbeans. We've got a 100 quart so far."
So how did you do? I've heard all of the various uses of make-but the first 3 are the ones I'm most familiar with.
Hope you'll leave me a comment and tell me how you did.
Tipper