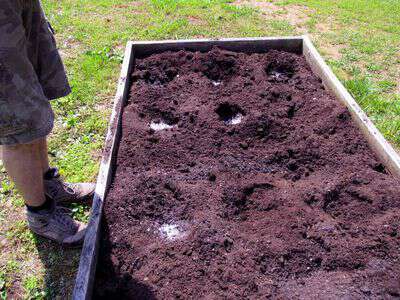 We plant most of our tomatoes in four raised beds. The dirt is a mixture of native soil (mostly red clay) and mushroom compost. We find mushroom compost really works for aerating and enriching red clay. The beds all get full sun-which is a must for tomatoes.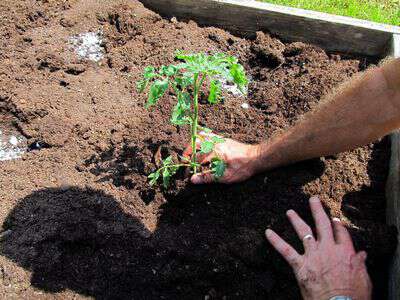 Several years ago a gentleman that clogged with the girls told us his mother taught him to put a little epsom salt in the hole before planting the tomato. They've been farming up near Fires Creek for over 60 years so we figured he knew what he was talking about. Since he shared that tip with us-we plant each tomato plant with a little epsom salt.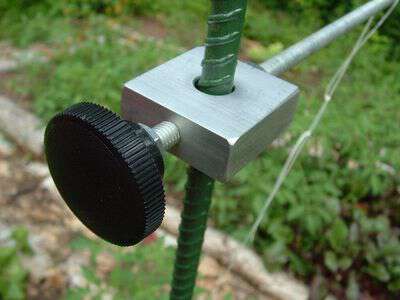 Ever since we got some of Kenneth Roper's handy dandy tomato stakes we use them to stake our tomatoes-but there are other methods out there.
Papaw Tony said when he was a boy they didn't stake their tomatoes at all-folks just let them run along the ground where they would. I've read tomatoes allowed to sprall out produce more-but since the tomatoes come in contact with the ground they are prone to rotting.
You can buy or make tomato cages for your plants. We used them for a while when we first started gardening-but we had such a small space back then that we felt like they took up too much room. Lots of folks around here use cages.
Tomatoes can be staked individually to a wood or metal stake.
Tomatoes can be trained to climb up a trellis. This technique is similar to staking-since you have to tie the tomato plant to the trellis as it grows.
There are even folks who grow tomatoes upside down in those topsy turvy basket things. The Deer Hunter made one a few years back-just to see how it would work-it didn't work for us.
Folks with small gardens-or no gardens grow tomatoes in pots on their porches and decks and you'd be surprised how many tomatoes can be produced in pots with the right situation…and the right amount of pots.
Pap uses a method to stake his tomatoes that reminds me Chinese Jump Rope every time I see it. (now that I typed that I'm wondering which elementary teacher taught me how to Chinese Jump Rope hmmm) Pap plants several tomato plants in a row. At each end he drives a stake in the ground. Then he takes several pieces of twine and starting at one end-winds it around the stake, around the tomatoes, and around the other stake. He usually has about 3 strands of twine going around the whole thing. The twine 'sandwiches' the tomato plants keeping them upright.
Staking is our preferred method-especially since Kenneth's stakes will probably outlast either of us. What method do you prefer? Or do you have a different method?
Tipper