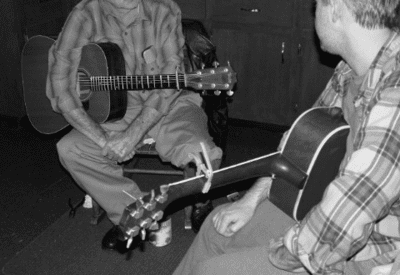 East Virginia Blues is what you call a traditional song, meaning it's so old no one really knows who wrote it. The song has many variations, which is typical with songs that have been preserved literally by word of mouth or maybe I should say word of singing.
It's easy to imagine how the various verses and chords came about, for example: Say Uncle Gaylon heard the song played in a tavern he visited on his way back from working down in the flatlands. Once he was home he couldn't remember exactly what the words were or exactly every chord, but he remembered the jist of it and he adjusted the words as he picked out the song sitting on the front porch after a hard days work.
A few of the songs Paul and Pap sing have been added to or changed by them. One that comes to mind is Early One Morning. It's a song Pap remembered from his childhood. Even with today's technology no amount of searching found the exact lyrics so Paul made up what Pap couldn't remember.
Everyone from the Country Gentlemen to the Carter Family have recorded East Virginia Blues. The version we like comes by way of Flatt and Scruggs. The words are slightly different and the tune is as well, kinda like a slowed down version of Little Maggie.
The MudCat Cafe music forum has over a page of entries about the song, its various lyrics, names, and possible origins. A forum participant, Masato Sakurai, offers this information about the song:
"The origins of this song ["East Virginia Blues"] can be traced back to seventeenth century England. One of the first Southern Mountain recordings of it was Clarence Ashley's "Dark Holler Blues," Columbia 15489 (149250), ca. 1928, which was sung with 5-string banjo. The melody and accompaniment were modal–neither in a major nor a minor key. Ashley later sang virtually the same tune and a similar text to the accompaniment of guitar and bluesy mouth-harp on "East Virginia Blues" (Ashley and Foster, Voc. 02576). About this time, the Carter Family recorded the song entirely in major and in two-part harmony (Bb B-5650). Later in the 1930s, the song developed into the very popular "Greenback Dollar," "The Answer to Greenback Dollar," etc." (Cohen et al., The New Lost City Ramblers Song Book, Oak, 1964, p. 43)."
I guess the longevity of the song means other folks enjoy it as much as I do.
Tipper