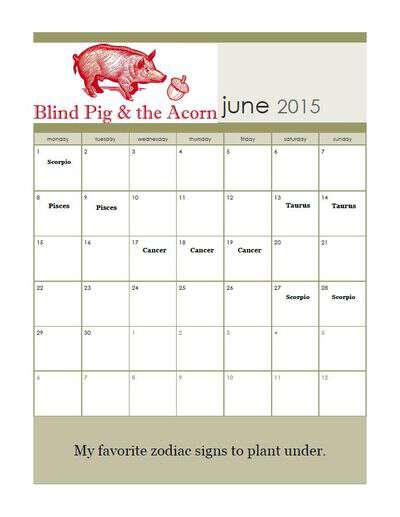 We have our garden planted! Whew it always makes me feel so good to know it's all done…well except the weeding, the weeding, the weeding. I hope to plant a 2nd planting of a few things to make the harvest last longer-but hope is the key word in that thought.
Most of what we planted is from Sow True Seed-a great GMO-FREE seed company located in Asheville NC. Sow True Seed sponsors the Blind Pig Garden-and their seeds are top notch so check then out if you haven't already. Let me share what we planted with you.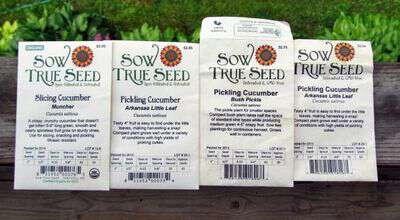 Cucumbers
Muncher: A crispy, crunchy cucumber that doesn't get bitter! 6-9″ long green, smooth and nearly spineless fruit grow on sturdy vines. Use for slicing, snacking and pickling. Mosaic resistant. *We've grown this one for the last few years and it is a great producer.
Arkansas Little Leaf: Tasty 4″ fruit is easy to find under the little leaves, making harvesting a snap! Compact plant grows well under a variety of conditions with high yields of pickling cukes. *This may be my favorite cucumber to grow. It produces like crazy and the cukes don't seem to grow too big too fast-in other words before I pick them.
Bush Pickle: The pickle plant for smaller spaces. Compact bush plant takes half the space of standard vine types while producing medium green 4-5″ crispy fruit. Sow two plantings for continuous harvest. Grows well in containers. *I plant this one in tight areas where there isn't a lot of room for cucumbers to run.

We're also growing the Mexican Sour Gherkin cucumbers I told you about a week or so ago.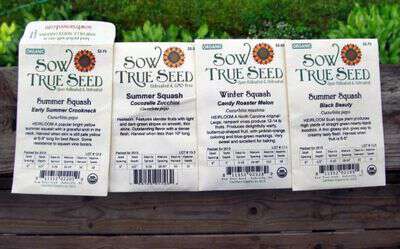 Squash
Early Summer Crookneck: HEIRLOOM A popular bright yellow summer squash with a graceful arch in the neck. Harvest when skin is still pale yellow at 6-8″ long for best flavor. Some resistance to squash vine borers. *Could it be a summer garden without yellow crookneck squash?
Cocozelle Zucchini: HEIRLOOM Features slender fruits with light and dark-green stripes on smooth, thin skins. Outstanding flavor with a dense flesh. Harvest when less than 10″ long.
Candy Roaster Melon: HEIRLOOM A North Carolina original! Large, rampant vines produce 12-14 lb fruits. Produces delightfully warty, buttercup-shaped fruit, with pinkish-orange coloring and blue-green markings. Very sweet and excellent for baking. *I planted way too many of this one! I had it in my mind I was planting Candy Roasters – instead I planted Candy Roaster MELONS.
Black Beauty: HEIRLOOM Bush type plant produces high yields of straight green-nearly-black zucchini. A thin glossy skin gives way to creamy tasty flesh. Harvest when fruit is 6-8″. *My favorite zucchini!
I also planted some hills of the white cushaw squash I grew last summer-the GIGANTIC ones sent to me by Blind Pig reader, Bill. I tried to give them more room to flourish this summer-so maybe they won't take over the entire yard.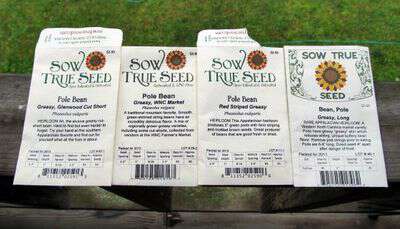 Beans
Greasy, Glenwood Cut Short: HEIRLOOM Ah, the elusive greasy cut-short bean. Hard to find but even harder to forget. Try your hand at this southern Appalachian favorite and find out for yourself what all the fuss is about. *We've never grown this one before-I'll let you know how it does.

Greasy, WNC Market: A traditional mountain favorite. Smooth, green-skinned string beans have an incredibly delicious flavor. A mix of regionally grown greasy varieties, including some cut-shorts, collected from vendors at the WNC Farmer's Market. *We've grown the Greasy, WNC Market for the last 3 years. They produce the prettiest beans! Hardly any specks or brown place-and very easy to string.

Red Striped Greasy: HEIRLOOM This Appalachian heirloom produces 5″ green pods with faint striping and mottled brown seeds. Great producer of beans that are good fresh or dried. *We've never grown this one before either-can you tell we've fallen in love with greasy beans? I'll let you know about this one too. Interesting that it can be used as a dried bean too.
Greasy Long: These came from Sow True Seed too-but they don't seem to carry them at the moment. I found the 1/2 filled pack at the bottom of my seed bucket and decided to plant them even though the pack was for 2011. I believe these are the beans that started us on our greasy bean kick.
We also planted some of Kenneth Roper's White Half Runners-he's been saving the seed for years.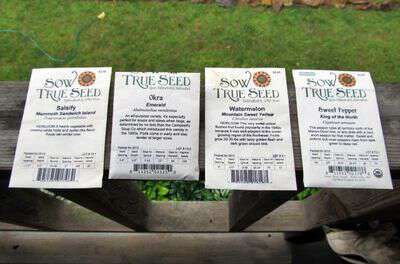 Various
Mammoth Sandwich Island Salsify: HEIRLOOM A hearty vegetable with creamy-white roots and oyster-like flavor. Roots can winter over. A versatile plant grown as an ornamental for its lovely pink and yellow flowers, as an edible root, and for use in herbal medicine. The flavor sweetens in the cold. Herbal medicine enthusiasts prize salsify for its diuretic and tonic properties while gourmands enjoy the nutty, complex flavor. Nutrients: vitamins C, B6, folate, riboflavin, calcium, potassium, sodium, magnesium and manganese. *This is the 2nd or 3rd time I've tried to start a Salsify bed. I have good luck with the plants coming up the first year but want to let them overwinter in the hopes that the plants would spread. The over wintering is where I seem to run into trouble. This year I'm going to dig at least some of them up to eat.
Okra Emerald: An all-purpose variety, it's especially perfect for soups and stews when large, as determined by no less than the Campbell's Soup Co which introduced this variety in the 1950s. Pods come in early and stay tender at larger sizes. *Love okra but if Granny sees mine she always gets on to me for not gathering it soon enough.
Watermelon Mountain Sweet Yellow:HEIRLOOM This very sweet yellow fleshed fruit found popularity in the 1840s because it was well-adapted to the cooler growing region of the Northeast. Fruits grow 20-35 lbs with tasty golden flesh and dark green striped rind. *This watermelon usually does pretty good for us. I could never grow as many as I could eat-I love watermelon! The Mountain Sweet Yellow has an excellent flavor although ours never reach the 20 pound mark.
Sweet Pepper King of the North: This pepper rules all territory north of the Mason-Dixon line, or any area with a cool, short season for that matter. Sweet and uniform bull nose peppers ripen from dark green to deep red. *We started these out in the greenhouse along with the tomatoes we're growing.
I snapped up some of the Gypsy Peppers B.Ruth turned me onto last year. I hope these do as good as the ones she gave me-her's produced right up till the first killing frost.
I'm trying Moon and Stars-a heirloom watermelon I saved the seed from last year and a few watermelon seeds from the gentleman down the road. His family has been saving their garden seeds for generations. He also grows the prettiest garden I've ever laid eyes on.
Whew-that's a lot of planting! Hope you'll share what you're growing in your garden.
Tipper