Today' special Easter post is brought to you by Paul.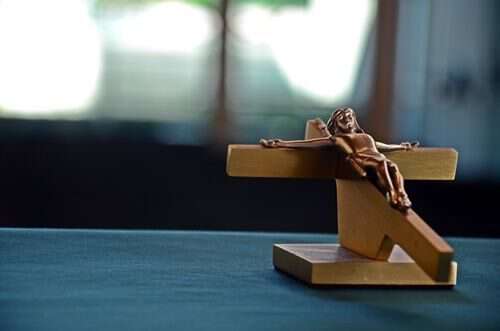 Happy Easter, everyone. I had hoped to upload another Easter-themed song with the Pressley Girls this year, but they both came down with the flu this past week. I'm enjoying a bad sinus infection myself, but I was able to shoot this, although the vocal is weak.
If you haven't heard this song before, it's a great narrative of the Gospel of Christ's Crucifixion.
Someone last spring requested that we shoot more videos outside, so I tried to oblige with this one. The little chair that I was carrying was in case I didn't come across anything good to sit on while playing. This is shot a few hundred yards behind our home near some old logging roads. It's surprising how loud the woods are, especially with an airplane crossing over thrown in for good measure. 🙂 Anyway, we hope you enjoyed this.
Lyrics are below:
'Tis a sad but true story From the Bible it came, And it tells us how Judas Sold the Savior in shame He planned with the council Of high priests that day 30 pieces of silver Was the price they would pay
30 pieces of silver, 30 shackles of shame Was the price paid for Jesus On the cross he was slain
'Twas on there on the hillside Where the multitude came. They found our dear Savior Then took him away They smote and they mocked Him Thorns were crowned around his head, And his garment of purple Showed the blood stains of red
Betrayed and forsaken Unloved and unclaimed, In anger, they pierced Him, But He died not in vain
Far off in the mountains with face toward the sun Judas begged mercy for what he had done He gave back the silver For his heart filled with strife Then there in the mountain, he took his own life
30 pieces of silver, 30 shackles of shame Was the price paid for Jesus But He died not in vain
Songwriters: Odell Mcleod -Thirty Pieces of Silver lyrics © Sony/ATV Music Publishing LLC
I hope you enjoyed Paul's great video I know I did!
Tipper
Subscribe for FREE and get a daily dose of Appalachia in your inbox