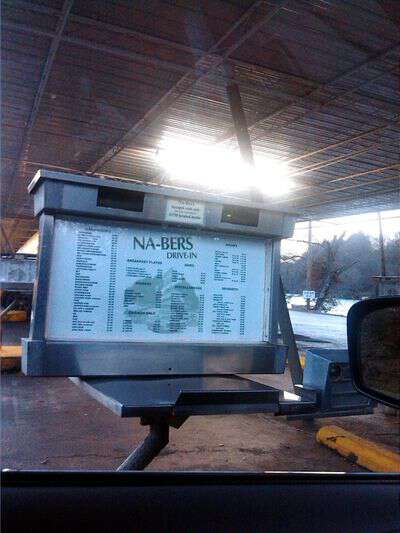 Do you like hamburgers? If so…do you prefer cheese or no cheese? Me I'm a cheeseburger kinda girl. If the burger doesn't have cheese I'd just as soon not eat it. Crazy I know.
Na-Bers is a drive in hamburger joint in Bryson City NC. They have the best cheeseburgers e-v-e-r. Their vanilla milkshakes aren't bad either.
The first time I ever ate at Na-Bers was with Granny and Pap. Back when there wasn't a McDonalds, Wendys, or Burger King every 20 miles there were places like Na-Bers. Pap knew where all the little eating places were from his days of truck driving.
If we were headed to Canton to see family we would stop off in Bryson City to eat. I completely forgot about Na-Bers until I was a young adult. I was riding home with some folks after visiting a singing event and someone mentioned they were hungry and a short time later we pulled up to the speaker at Na-Bers. I immediately felt like I was 10 years old with Steve and Paul sitting beside me in the back of Pap's big Impala-all of us thinking the restaurant was just like the one on Happy Days…well at least that's what I was thinking I'm not really sure what Steve and Paul were thinking.
Parker's Drugstore in Murphy NC has good cheeseburgers too. How about where you live-what's the best burger joint?
Tipper
Appalachia Through My Eyes – A series of photographs from my life in Southern Appalachia.