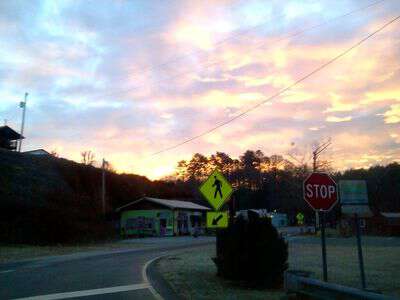 A big THANK YOU to everyone who played along with the giveaway Where Is It? Four people guessed the correct location-which is Canton, NC.
Canton is a town in Haywood County NC-almost 100 miles from here. It happens to be The Deer Hunter's home town-so at least a few times a year the Blind Pig family spends some time in Canton.
So many of you guessed Brasstown that I wished I could bring all of you here for a personal tour! Brasstown isn't really a town at all. If you're at the stop sign shown in the photo above you are in the center of Brasstown.
The buildings you see across the road and to the right are craft shops. If you turned and looked behind you-you'd see the John C. Campbell Folk School; if you looked to the left you'd see Clay's Corner; if you turned right then made a quick left beyond the craft stores you'd find the Brasstown Post Office with the Brasstown Community Center just across the road a ways. And that pretty much sums up the tour of central Brasstown-not even a red light! Tri-County Raceway is fairly close to the intersection above as is the Kelischek Music Workshop.
In school I learned the word Brasstown is from a corruption of a Cherokee word which meant brass. Brasstown is a divided community-with a portion of it laying in Clay County and a portion laying in Cherokee County where our humble abode is located. Over the years we've received tax bills from Clay County and even jury duty notices from Clay County-as I'm sure the folks who live in the Clay County portion of Brasstown have received them from Cherokee County.
Now for the giveaway winner. The random number generator picked #39 Margaret Johnson who said: "I believe this is Canton, NC. My husband grew up there."
Margaret if you'll email your address to me [email protected] I'll send you a poke full of Blind Pig stuff including a Lamp Lighting cd, a Songs of Christmas cd, something Granny made, and something Chitter made.
Tipper