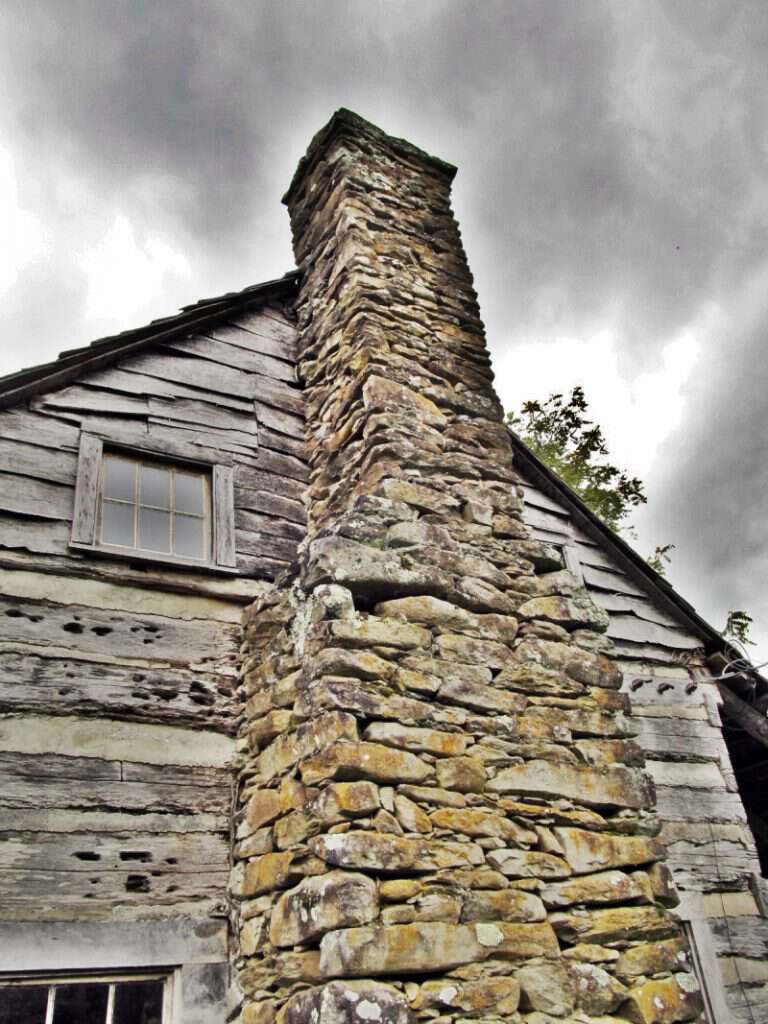 The 1974 Winter Edition of the Foxfire Magazine contains a compilation of newspaper articles written by Harvey Miller. At the time of the magazine's publication Miller's weekly column had been around for sixty years and was till being published in the Tri-County News located in Spruce Pine, North Carolina.
1972
When have you ever seen the rough bare walls of a house that had to be covered with newspapers instead of wall paper, as I don't reckon there was any wall paper then to buy?
I remember our old log cabin home was kept papered with newspapers as long as we lived in it and when the papers yellowed with age, my mother would put on new paper right on top of more paper until it would get "baggy" and tear loose and hang down and when it would do this, she would strip off all the paper and put on a new job.
My mother would paste up the papers on the walls with sticky wheat dough, which was a good bait for mice to gnaw on and get holes into the paper. Talk about hearing mice riddling the paper! You could hear them all night long.
Some women would put blue stone in the wheat dough and said that would poison and keep the mice from eating the dough.
But newspapers was hard to find even enough to paste up in a whole room as it took a lot of papers even to line just one room. Big newspapers was hard to paste up, especially up over the loft and if you didn't get the papers started straight, they was then hard to ever get them straight again.
My mother liked to paste up catalogues but they was not thick and as warm as newspapers. The outside of the log cabins was chinked and daubed up with mud and all holes in the cabin walls had to be stopped tight with sticks, papers or small rocks, as if there was any holes where the wind could blow through, it would tear down the papers off the wall.
We've had people who was visiting us and they would stand an hour or two at a time and read papers pasted on the walls. One time my mother in pasting up papers run out of printed sheets of paper and so to try to get done with the work of pasting up the papers, she found a box of old love letters of her daughter's (my sister) and she pasted them on the wall and the fun of it all—my sister went and got married a week after then to another sweetheart besides the one who had wrote her the love notes. But anyway, the old love letters at least on one side was read and reread by folks until they was so yellowed with age that the writing could not be made out. My youngest sister like to read them love letters and she would giggle and giggle while she was reading them old love letters written to her sister. My mother would laugh at her and asked her if she was learning to write love letters the reason that she was reading them so much. My mother told her that is if she didn't stop looking up on the loft to read the papers that she would be crosseyed.
I heard of a large family that once lived back here in the mountains and the parents went off one night to stay awhile and visit their neighbor, and when they come back their little children had tore every paper they could reach on the wall and burnt them in the fire-place and they said that they got cold and they set fire to the papers to make a fire to keep warm. But that sure was dangerous about setting the log cabin on fire.
I heard one time of an old couple that lived way back in the mountains and after they had passed on some very costly valuables was found by surprise that they had securely hidden behind some papers that was pasted on the wall.
The old log houses that was lined inside with newspapers made the house kind of air-conditioned. Yes, it made them cool in summer time and warm in winter.
In closing this item, who remembers when you had company that would eat dinner with you that someone would have to stand over the table with a fly flap to keep the flies away so you could eat. I recall the fly flaps was made out of paper cut in a fringe and tied on a stick and talk about flapping at the flies! You sure had to make it rattle fast to keep away the swarm of flies, as you know the windows was raised wide open at the bottom to let in air and there was nary bit of screen on them. Boy! oh, boy! Was that good or bad days that I have wrote about? If you can't remember about what I have written, ask your grandma or grandpa about it!
12/7/72
---
I hope you enjoyed the old article as much as I do. My favorite part is the mother pasting up the old love letters. I'm sure that was exciting for everyone…and maybe a bit embarrassing for the girl and her new husband.
Although I'm sure papering the insides of the walls was frustrating in many ways, I'm positive attracting mice was the worst!
Last night's video: Traditional Appalachian Ambrosia | 2 Recipes.
Tipper
Subscribe for FREE and get a daily dose of Appalachia in your inbox