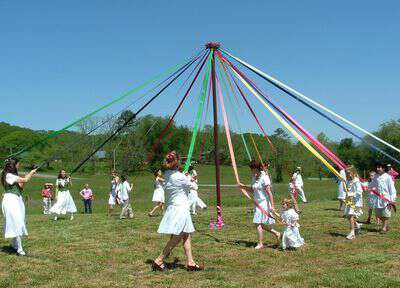 Earlier this week when I was listing the things that May brings to mind-I totally forgot one-The May Pole.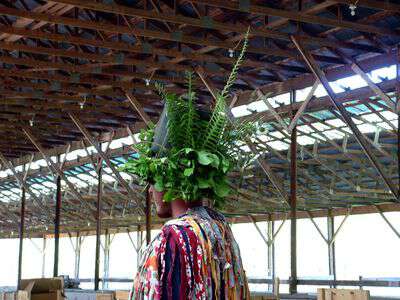 Sometime during the last of April-strange things start happening around Brasstown-you know like top hats growing ferns around their edges. There's a rush on all the thrift stores-from people looking for white clothing-and it seems colorful ribbons wave around everywhere you look.
Me and the girls always look forward to being part of the John C. Campbell Folk School's May Pole Celebration. This year we just couldn't seem to make it work-first there was a choral performance at school-then I got the practice day mixed up-then the end of semester homework blues took a hold of us.
I had last year's May Pole Celebration on video so we watched it and remembered how fun the day was-and told ourselves next year we'd make sure to be part of the joy again.
If you couldn't tell-I'm the one holding hands with the least May Pole Dancer; Chatter of course has her cowboy boots on; and Chitter is between the Green Man and the Morris Dancer when we're going around the pole.
So have you ever danced around a May Pole?
Tipper
p.s. The lovely Monica Gatti filmed last year's May Pole for me-THANK YOU Monica 🙂