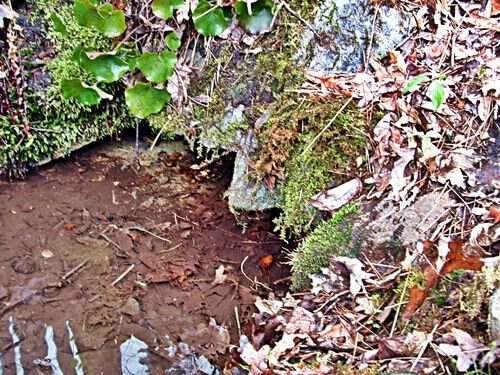 A spring Pap used to feed our gravity water system when I was a child
"Mountain people…highly valued a cold, good-tasting spring, and when they had to go to the "flat lands" always returned home complaining about how warm and awful-tasting the water was. Dock and Liza Jones, who lived fairly near (Hazel) Creek's mouth, had a springhouse and anyone who passed by and was thirsty knew they could stop and have a drink of ice cold water or some of Liza's good buttermilk."
~Dauane Oliver, Cooking on Hazel Creek
———
Pap valued good tasting water. He would have probably said one of his main needs was to have good tasting water. I remember when he finally had a well drilled. I was in about 8th grade. He worried more about whether the water would taste good than he did about the cost of the drilling. Thankfully the well water was top knotch.
The Deer Hunter and I are lucky that our well is full of clear cold good tasting water.
I value the taste of water more as an adult than I ever did as a kid. Much like the people in the quote who visited the flat lands, I can't hardly tolerate visiting somewhere that has bad tasting water. I drink a gallon of water a day and I pack it to take with me to work.
My building at work recently got one of those new fangled water coolers. I think its really just a water fountain that looks different, but what do I know? Anyway one day someone remarked that now that we had a new water cooler I wouldn't have to carry in all my water. I said "Naaa I think I'll stick with the water from my house 🙂 ."
Tipper
Subscribe for FREE and get a daily dose of Appalachia in your inbox