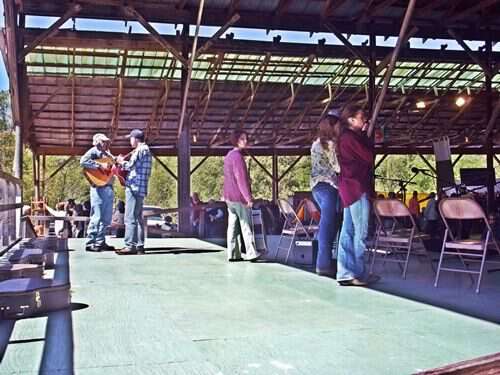 Blind Pig Gang getting ready to play at the John C. Campbell Folk School – 2011
The Pressley Girls have been making music at the folk school for nearly half of their lives. When you add in the years they spent on the John C. Campbell Folk School Clogging Team, The Pressley Girls have been hanging around the folk school for most of their lives.
We've been keeping the roads hot this summer. Seems like we've played at least once every weekend if not twice. More than once I've heard the girls tell the crowd about the influence the John C. Campbell Folk School has had on their music. The first time I heard them state this obvious fact, I felt a little twinge of jealousy. I couldn't help thinking well what about Pap, Paul, and me?
Of course we influenced their music too, and the girls are always forthright about saying so, but right up there with their family circle of music is the community of music they've been fortunate to be part of at the folk school. And that's a fact.
There's no doubt the flavor of the music they choose to play would be totally different if not for the folk school's influence. Not to mention the quality of their playing.
Although there was never formal music lessons from the folk school community there is always someone willing to show the girls how to play a tune or improve their technique. To name a few: Bob Dalsemer, David Liden, David Anderson, Mike Robinson, Margie McDonald, Dawn Davis, Gretchen Mims, and JD Robinson. I'm sure I've left folks out because that's how generous the folk school community is-there is always someone willing to help. And that long list doesn't even include the folks who visit the folk school from a far on a regular basis-they are equally willing to share their musical knowledge.
Pap and his brother had a long history of music with the folk school too. If you've ever visited their history center you probably saw their photo. The history center is currently being renovated and I'm keeping my fingers crossed their photo continues to be part of the exhibit.
Sometimes when we play at the folk school we're introduced at Brasstown's own. That phrase always makes me feel good. I'm glad the folk school community believes we are part of them and we sincerely feel the same way: the folk school is part of us.
Here's the first half of our concert at the John C. Campbell Folk School on June 22.
I hope you enjoyed the music and the comedy. If you'd like to catch one of The Pressley Girls' performances this summer go here to see their schedule.
Have a great Sunday!
Tipper
Subscribe for FREE and get a daily dose of Appalachia in your inbox