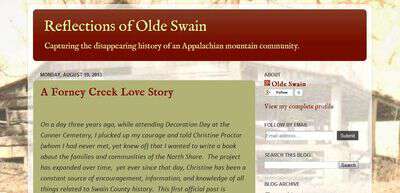 Today is Thursday and boy do I have a treat for you.
I met Wendy Meyers about 2 years ago. Our paths crossed because of a mutual friend, Don Casada. Since meeting, our friendship has been strengthened by our shared interest in the history of western North Carolina.
For the last few years Wendy and Don have been working on a project to document the old home places in the Swain County portion of the Great Smoky Mountains National Park.
Recently Wendy has decided to share some of the wonderful stories of history on a new blog she launched titled Reflections of Olde Swain. To sum up the blog's purpose in Wendy's own words:
"For every homesite and every tombstone has something to tell us of the lives they stand in memory of.

My goal, through this blog, and the book I am writing, is to resurrect them."
The treat I have for you today-is for you to jump over to Wendy's new blog, Reflections of Olde Swain, and read A Forney Creek Love Story. I know you'll enjoy the story of the 69 year marriage as much as I did! And while you're there-sign up for Wendy's free email subscription if you're interested in her future posts. (you can find the subscription box on the top right side of the page)
Tipper