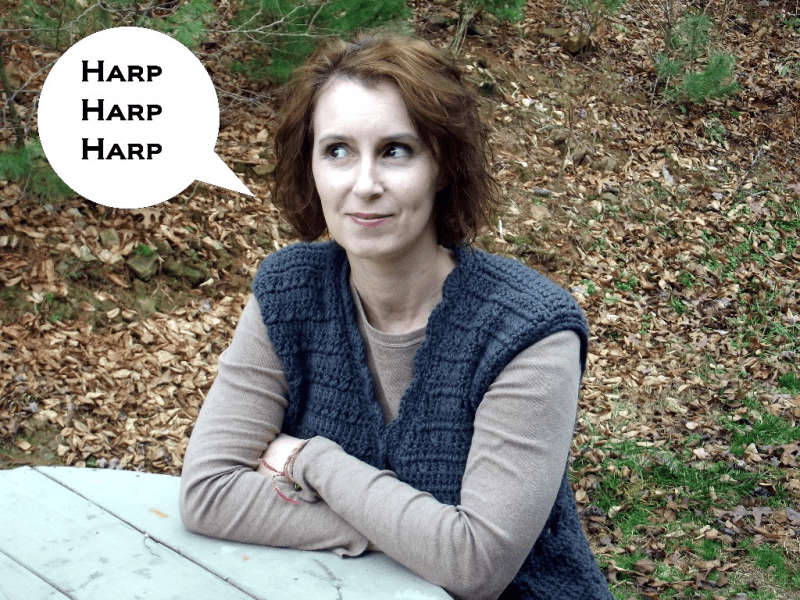 The other day I was excited and words were just flying out of my mouth. I was in mid-stream of making my point saying "It's just unbelievable! For all this time they've been harping and harping about…." when I suddenly stopped and thought "hmmm wonder if the rest of the world says harp?"
Every once in a while that happens-I'll say something and then wonder if what I've said is an Appalachian thing?
I could hardly wait to look up the word harp and see where it came from. A quick look through my Appalachian dialect books showed nothing.
I did find the following on the Online Etymology Dictionary:
harp (n.)
Old English hearpe, from Proto-Germanic *kharpon- (cf. Old Saxon harpa "instrument of torture;" Old Norse harpa, Dutch harp, Old High German harpfa, German Harfe "harp"). Late Latin harpa, source of words in some Romanic languages, is a borrowing from Germanic. Meaning "harmonica" is from 1887, short for mouth-harp. The harp seal (1784) is so called for the harp-shaped markings on its back.

harp (v.)
Old English hearpian; see harp (n.). Cognate with Middle Dutch, Dutch harpen, Middle High German harpfen, German harfen. Figurative sense of "talk overmuch" (about something) first recorded mid-15c., originally to harp upon one string. Related: Harped; harping.
As you can see the second entry gives the definition we most often connect to the word harp (other than the musical definition) the figurative sense of talk overmuch.
However I feel like the first entry better fits my excited comment: instrument of torture. When someone is harping on and on doesn't it feel like an instrument of torture to you?
Tipper