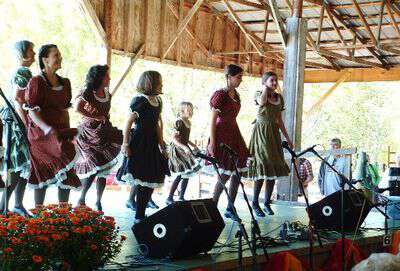 It's time to announce the winners of the JCCFS Fall Festival Giveaway! I thank each of you who took the time to enter-I only wish I had tickets for each of you.
There were 22 entries in the giveaway. I used the handy dandy Random Number Generator to pick the winners from a numbered list of entry names. The first number generated was number 9…
Which corresponds with the name-Bill Burnett! The second number generated was number 1…
Which corresponds with the name-Lonnie Dockery. I hope those of you who didn't win-still decide to come out to the JCCFS's Fall Festival-it truly is a fun festival for all ages where you can see crafts, demonstrations, music, and dancing.
You might even catch the JCCFS Cloggers hovering in mid air (go back and check out the first photo in this post). Well-o.k. you might not see them hovering in real life-but I guarantee you'll see some ankle breakers on both days of the festival!
Hope to see you there!
Tipper