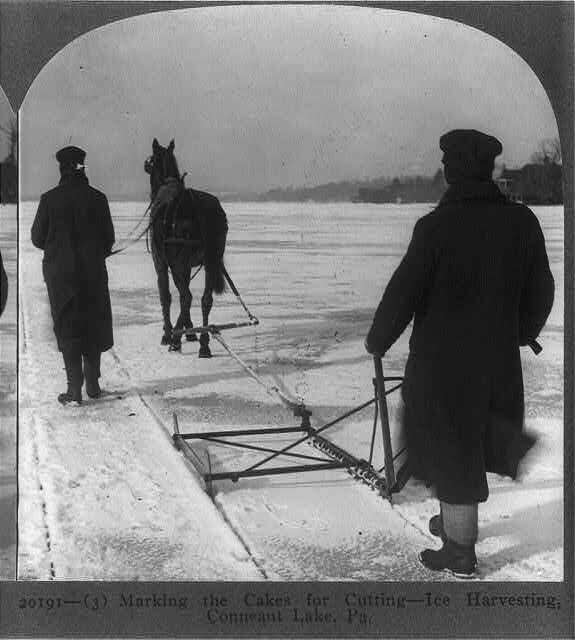 Library of Congress – c1907  PENNSYLVANIA–CONNEAUT LAKE 
Gov. Carringer describes event that happened in Graham County NC late 1800s – written and documented by Fred O. Scroggs – Brasstown 1925
"Two men, staunch members of a Baptist Church on Yellow Creek, made a trip to Maryville, Tenn. to market their produce butter, eggs, herbs, chestnuts, chinquapins, deer hams, etc.

On their return they were telling something of the sights of the city, one of which they claimed they saw them making ice in August. This was repeated a few times around the country store and elsewhere until the Deacons decided something had to be done about this matter. So, they brought charges in the church against these two worthy members, charging them with lying.

On being brought to trial in the church, they did not deny their story, but made the church a proposition, that if they would select two more of their most reliable members to go with them to Maryville; they themselves to pay all expenses, and on return if these two faithful brethren did not report true facts etc., then the church could "church them."

The four went to Maryville and later reported to the Deacons that they certainly were making ice in August. Whereupon a meeting of the members was called. The report was heard and by a unanimous vote all four were turned out of the church for lying."
——————-
I recently read a fascinating article about the history of ice harvesting in Grit Magazine. I had no idea the use of ice for preserving foods went back so far in time.
This story, recorded by Fred O. long ago here in Brasstown, makes me smile for many reasons.
While the church members seem downright silly today, if you'd never seen a piece of ice other than during the wintertime, it really would be hard to believe you could buy it over the mountain in TN during the month of August.
Tipper