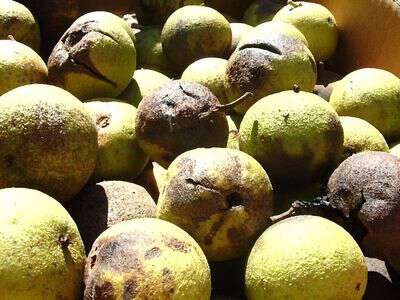 Last week Charles Fletcher left this comment:
Many years ago I remember the old timers calling walnuts "Warnets" Will you look this word up?
Charles Fletcher
I added Charles's request to my to do list-and sorta forgot about it. But once B. Ruth left this comment:
Tipper, and Charles..I remember one of my grandmothers calling walnuts "warnets"…We always thought it funny, when I was a child. Until my Dad said, (it was his Mom), a lot of old folks called walnuts, "warnets"! She was getting up in her late eighties…so we thought it was just an old age thing, boy did we get called on the carpet! I love "black warnet cake" so I am sure I would love the "arsh" potatoes added. Eyerish got transposed to Rrish to Arsh…which seems just fine to this half Irish gal.. Thanks For great post…Tipper, PS, I happen to have a great piece of art that is called a Black Walnut (warnet) Cracker…handmade by one of your neighbors…Works like a charm and the base is beautiful wood. Thanks Ken for the great job you did in making our Walnut Cracker.
I knew I had to look up the word. When I pulled my Dictionary Of Smoky Mountain English off the shelf this is what I found:
walnut noun variant form warnit/warnut. 1867 Harris Sut Lovingood 115 Yu's drunk, ur yure sham'd to tell hit, an' so yu tries tu put us al asleep wif a mess ove durn'd nonsince, 'bout echo's an' grapes, an' warnit trees; oh, yu be durn'd. 1936 LAMAS (Madison Co NC, Swain Co NC). c1940 Simms Coll. Walnuts are called "wernets" by the  mountain people. 1942 Hall Phonetics 32. c1945 Thomas Death Knell Many old people say warnuts for walnuts.
As far as I can remember, I've never heard anyone say warnut for walnut. The usage is probably almost gone-if it even survives at all-other than in memories of folks like Charles and B.Ruth.
The 'r' in warnut brings to mind other words I do still hear like warsh for wash; feller for fellow; yeller for yellow; and winder for window. The 'r' sounds is important to the Appalachian dialect.
Tipper