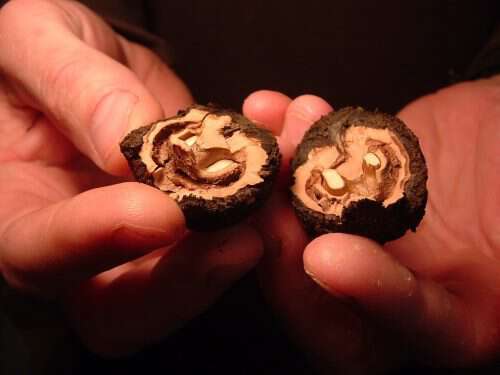 Black Walnuts are for sure a hard nut to crack-as I said before many people think they are too much of a pain in the neck to even fool with. In the last Black Walnut post-we discussed different ways folks use to remove the outer green hull from the actual Black Walnut. After the outer hull is removed the walnuts should be allowed to dry or cure for at least a few weeks.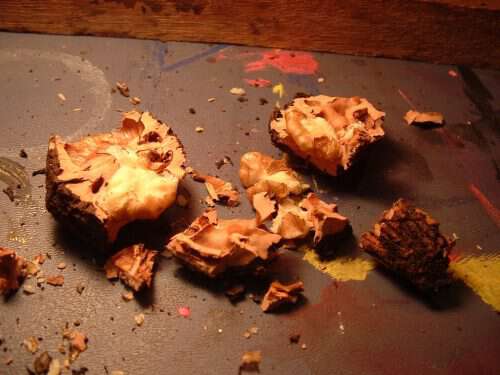 Black walnut shells are unusually hard. Probably the most common method people use to crack them is a hammer. Granny and Pap used to have concrete blocks for their front steps. I remember Granny sitting out there on the steps with a hammer cracking out her walnuts. She'd crack the nuts open, placing the shells in a big bowl and when she had the bowl full she'd sit and watch tv and pick out the goodies.
About 10 years ago, one of Granny's brother-n-laws made her a walnut cracker. She was so tickled you'd have thought he gave her a million dollars. Kinda made me feel bad that I had never thought to buy her one myself.
I'm not exactly sure how he made it I believe the ridged gear piece is part of a car fly wheel.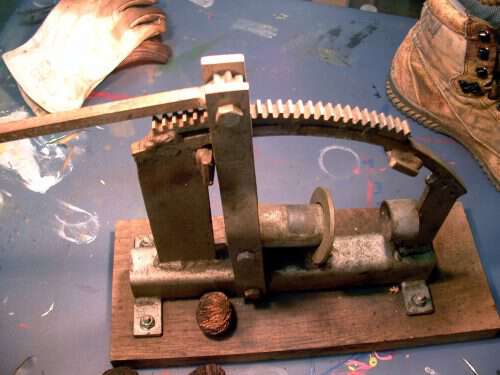 You place a walnut in the rounded slot, pull the handle and it cracks right open. So easy. Back when Granny first got the cracker she wouldn't let anyone borrow it not even me. When I asked to borrow it she'd say"I'll crack them for you cause I don't want my cracker to get tore up."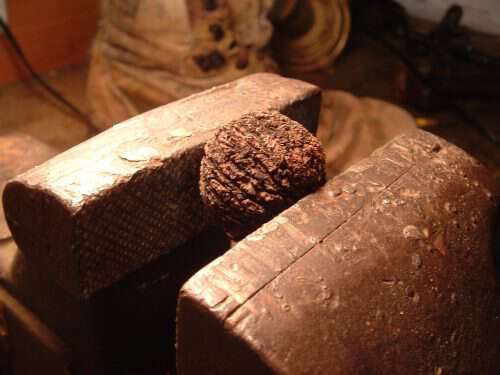 Jim Casada shared how his family used to crack black walnuts with me:
Over the years my family and me have cracked black walnuts two ways:  (1) Place a nut in a vise and tighten until it cracks thoroughly.  (2) Place the nut atop a closed vise, an anvil, or a similar surface and crack with a hammer. Either way, we would crack a great batch all at one time, and then the whole family would be involved in picking out the nut meats. 
Charles Fletcher shared his memories of cracking Black Walnuts with me too:
In Canton we had two types of walnuts-black and soft shell. The black were the old traditional and the soft were similar to pecans but they had the shell of the black walnut. The walnuts as I knew them are fast vanishing from the lumber companies chopping every one they find. We also piled the nuts in the roadway for removing the hull. Come cracking time on some cold winter day everyone had a hammer and a stone for getting that next cake and sometimes candy of molasses and walnut goodies. Cracking was not considered a chore. Just fun and good eating.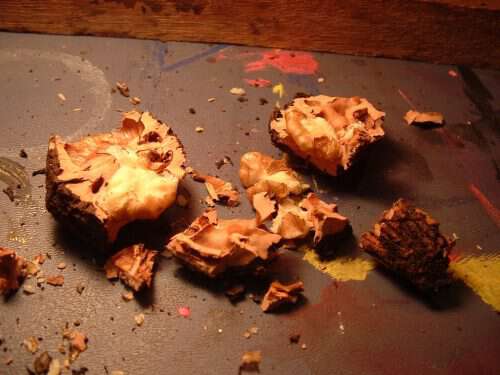 Whichever method you use to crack Black Walnuts be careful of flying shell pieces. Wearing a pair of safety glasses is probably a good idea.
If you have experience cracking Black Walnuts-please leave a comment and tell us what you know.
Tipper