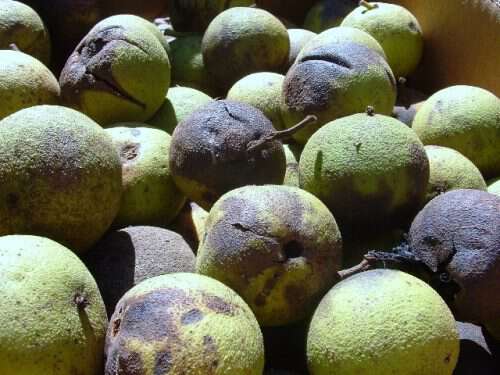 Now that you know Black Walnuts are my favorite tree-I'll tell you they're also one of my favorite nuts-even though some people think they are too much trouble to fool with.
Black walnuts have a green hull that must be removed before you can even see the shell which contains the nut. It's best to wait till the walnuts fall from the tree before you collect them-if you try to pick them from the tree you'll find the green hull is too hard to remove easily.
As you pick up black walnuts-you'll notice some are still fairly firm and green while others are black and down right mushy. I advise you to pick them all up-the more disgusting ones-are just farther along in the natural decomposition process of loosing their green hull. And you'll quickly discover they are easier to hull-even if they are messier to deal with.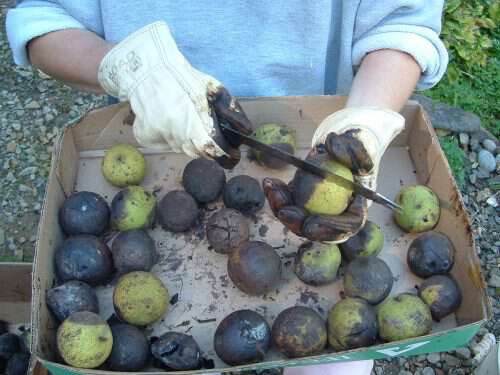 There are several different ways to remove the outer green hull from the walnut-but no matter which method you choose to use-I recommend you wear gloves, preferably water proof-if you don't you'll end up with stained hands.
Many folks spread the nuts out in their driveway and run over them with a car or tractor-letting the wheels do the work. Some folks make a hole in a board and 'hammer' the nut through-the nut falls through the hole while the hull stays on top-you can see how Janet's family uses the board hammer method by clicking here.
I have an old serrated knife I use for gardening chores. I take the knife and make a circular cut around the hull and twist each side off.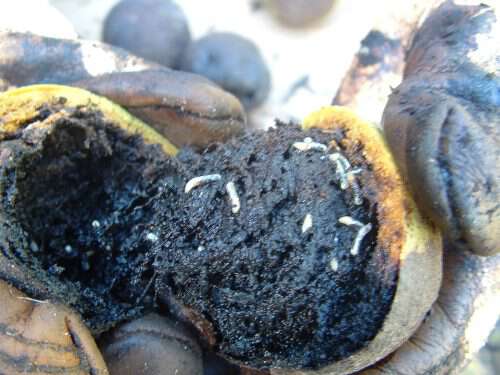 I will forewarn you-most every walnut hull will have fly larvae in them-they look disgusting but won't hurt you or the walnut.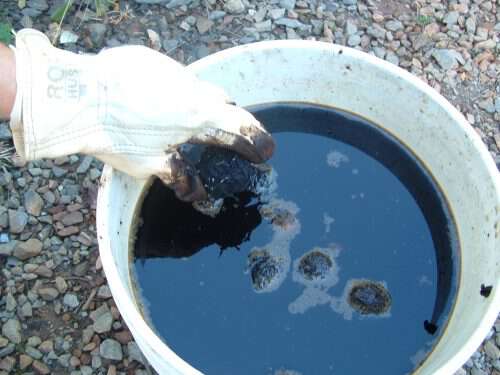 After I remove the hull I drop the walnut into a 5 gallon bucket of water. This kills all the little hull inhabitants and gets rid of any stubborn hull fibers that stick to the walnut.
After my bucket is fairly full I stir the walnuts around a couple of times and pour them out to dry (you should think about where you pour the water-as it is like a walnut stain). I have several greenhouse type trays that I put the walnuts on-that way the water drips through the holes on the bottom and the walnuts get good air circulation from all sides. I set the trays out in the sun-and take them in at night until they are dry. Another great way to dry them-is to store them near a heat source-our wood stove works especially well for drying walnuts. Depending on the squirrel population in your neck of the woods-you may need to watch the walnuts closely if you leave them outside to dry.
Now after all that work-you're still not ready to crack those nuts just yet. You should continue to let them dry/cure for at least a few weeks. In a few days or so-I'll show you how to crack them open and get the goodie.
If you've got a different method for removing the hull-I hope you'll leave a comment and tell me about it.
Tipper