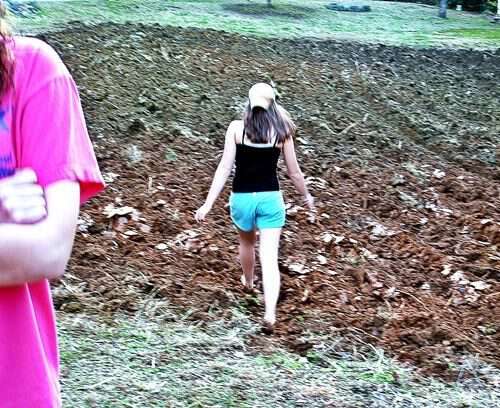 As I drive to and fro this time of the year my eyes are snatched from the road by dark brown patches of earth where folks have har'd their gardens in preparation of planting summer's bounty. None of our garden areas are large enough to har, but a man down the road used to come har Pap's big garden. Since no one in the holler had a way of getting their garden har'd themselves the man would do Uncle Henry's on the same day.
Chatter and Chitter were always anxious to shuck their shoes and walk through that cold turned ground in search of hidden treasure that might have been unearthed. The photo above was taken on a warm March day in 2011. As soon as the tractor drove off down the road toward's Uncle Henry's Chitter took off straight across the fresh turned ground. You can see Chatter on the left edge of the photo and you can see from her stance that she wasn't happy with me.
Chatter was getting over a bad cold and I wouldn't let her follow Chitter because I could hear Granny in my head telling me she'd take a backset if she took off her shoes and got in that cold dirt.
Har is a word that surprised me. Until I started writing here on the Blind Pig and The Acorn I had no idea that har wasn't really a word, but a corruption of the word harrow.
Miss Cindy: I learned the word har from the Deer Hunter's Papaw James. He told me I needed to get the garden hared. I said what is hared? He said you know cut. I said what does cut mean? He said you know hared. Well that could go round and round all day. When the Deer Hunter's dad came home from work I asked him and he explained.
Vicki Lane: I was a tutor with a remedial reading class in the local high school and my student was reading something for me. He bogged down at the word 'harrow' and I said 'You know what that is — the triangular thing with teeth that you drag across a plowed up field to smooth it.' 'You mean a har?' he said.
You can see from the two comments above har is like a lot of other words used in Appalachia…it can have more than one meaning. Folks here use it in the same way Papaw James did. When we say har we mean turn the garden over and cut it down deep. After our gardens are har'd they still need to be plowed before you can plant in them.
However the other commenter, who lives in Madison County NC, used the word to indicated the smoothing of a field or garden.
Tipper
Subscribe for FREE and get a daily dose of Appalachia in your inbox