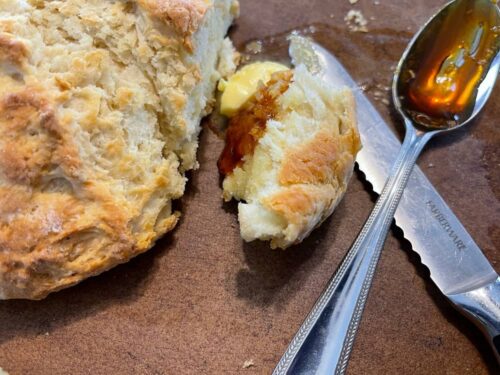 Happy St. Patrick's Day! Do you have your green on? If not you know you're going to get pinched 🙂 That old tradition was really celebrated during my elementary years. Most of the pinches were done very gently, but sometimes the ones on the bus ride home got pretty hard core 🙂
I've been seeing recipes for Irish Soda Bread popping up everywhere during the last week or so. A few years ago Blind Pig Reader Ann Applegarth shared her great Irish Soda Bread recipe. You can see it here.
I was flipping through one of my cookbooks, "Cooking and Living Along the River" by Duane Oliver and noticed he had two recipes for Irish Soda Bread. They are basically the same, except one uses all-purpose flour and the other whole wheat.
I've made two loafs of the all purpose version this week and it's really good. If you've never had Irish Soda Bread its very similar to biscuit bread. Although the way it's made gives it a much crustier outside and a denser inside.
Here's the recipe I used from Duane:
2 cups all purpose flour
1 teaspoon baking powder
1/2 teaspoon baking soda
1/4 teaspoon salt
3 tablespoon butter
1 slightly beaten egg white
3/4 cup buttermilk
Stir or sift together first 4 ingredients. Cut in butter till crumbly. Make well in center and add buttermilk mixed with egg white. Stir till moistened. Turn out onto floured area and knead ten strokes till nearly smooth. Shape into seven inch round loaf. Place dough on greased baking sheet. Make two slashes through top of dough to form a cross. Bake at 375 for 30 minutes or till done. Can also be made with whole wheat flour.
The bread is so good with a slather of butter.
In last night's video I made the bread and shared some of the writings from Duane's cookbook. You can see the video here.
Tipper
Subscribe for FREE and get a daily dose of Appalachia in your inbox