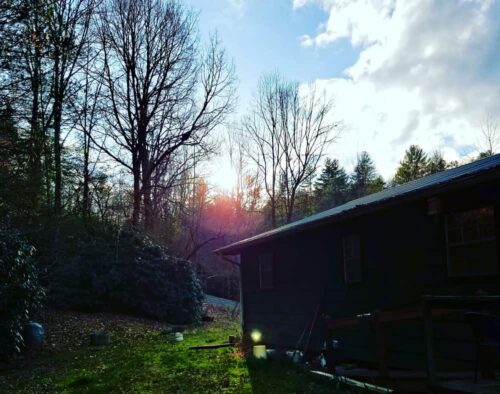 "Nice photos. This video made me think of the Welsh word "Hiraeth". There is no direct translation to English but it is typically considered to mean something like a homesickness for the places from your past that you can't return to or even those you've never been to and nostalgia for your past self, the people who are gone, or the emotions you used to feel. Happy memories that are also sad because of grief for loved ones that have passed on which makes your home, or the present time, not the same as before."
—Folk Survival
---
The comment above was only the second or third time I've encountered the word hiraeth. The other times I ran into the unusual word was right here on Blind Pig and The Acorn when readers spoke of it.
A quick search will share the same or at least similar definition that Folk Survival gave. And more than a few sites agree there is no exact direct translation for the word to English.
However the feeling it describes is known by most humans.
That bittersweet feeling of remembering and longing for a time that's no longer here. Maybe it's grandparents, aunts, uncles, and cousins who no longer walk the same paths you do. Maybe it's our very family—father, mother, sister, brother, children. Or a homeplace that now belongs to someone else or has been erased by progress.
I suppose for me it's all those things. But it's more than that.
It's the clink of coffee cups on the counter, barefeet down the hallway, the slamming screen door, guitar sounds from the couch, cigarette smoke and spit cups, earnest preachers hollering out the gospel, the sound of water as it runs in sinks to prevent freezing, the excitement of a weenie roast out behind the house made even better by a cold watermelon that's rested in the creek since morning, the laughter of children as they see who can swing highest on the grapevines in the Coleman Gap, guitars, mandolins and high lonesome tenors floating out open windows as kids run in dusky dark playing hide and seek and catching lightening bugs.
The closest word I can think of in the Appalachian language to mean hiraeth would be lonesome.
I'm often lonesome for a time, place, and people that can never be reproduced or recreated. The unique thing about being lonesome or hiraeth for something that's gone, is with the feeling of grief and longing there is also a feeling of joy. A great joy of having lived and experienced the people and places that are no more.
Last night's video: Saint Patrick's Day Traditions Observed in the Mountains of Appalachia & A Fiddle Tune from Katie.
Tipper
Subscribe for FREE and get a daily dose of Appalachia in your inbox