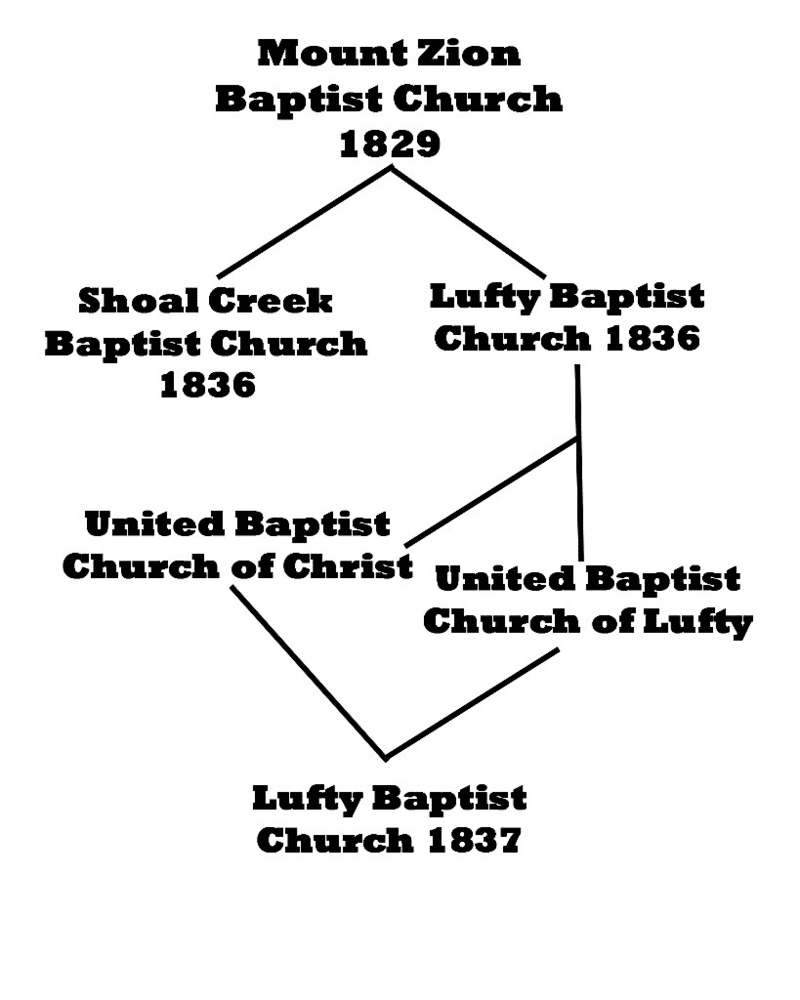 In 1829 Mount Zion Baptist Church was formed by Reverend Humphrey Posey and Reverend Adam Corn. The location of Mount Zion Church was in the same location as the Lufty Baptist Church we've been discussing over the last few days.
A few short years later Mount Zion split into two separate churches. The split didn't occur due to the typical falling out between members. Mount Zion decided to split to make it easier for people to reach the church without crossing the river. After the split there was a church on each side of the river-Shoal Creek Baptist Church and Lufty Baptist Church.
According to the research I conducted, Shoal Creek Baptist Church was short lived (at least this one-I know of several Shoal Creek Baptist Churches) with most of the members continuing to attend Lufty Baptist Church.
Lufty Baptist Church split one additional time-into the United Baptist Church of Christ and the United Baptist Church of Lufty. I couldn't find any details about this split-but as you can see it was short lived with the church combining once again to form Lufty Baptist Church by 1837.
The church survived through very turbulent times. In 1838 the US Government began removing the Cherokee Indians from the area by force. Historians estimate over 1,000 Cherokee hid in the mountains and caves surrounding the Oconaluftee valley to escape the troops who were looking for them.
The Civil War started almost 30 years after the Cherokee removal, and Lufty Baptist Church was still going strong. According to the book, Ocona Lufty Baptist Pioneer Church Of The Smokies 1839-1939, the church stayed open even though the church minutes hint at a division of views on the Civil War. Other churches in the Smoky Mountains-such as the Primitive Baptist Church in Cades Cove closed during the war. Richard Evans and W.H. Conner are credited with keeping Lufty Baptist Church going during the rough years.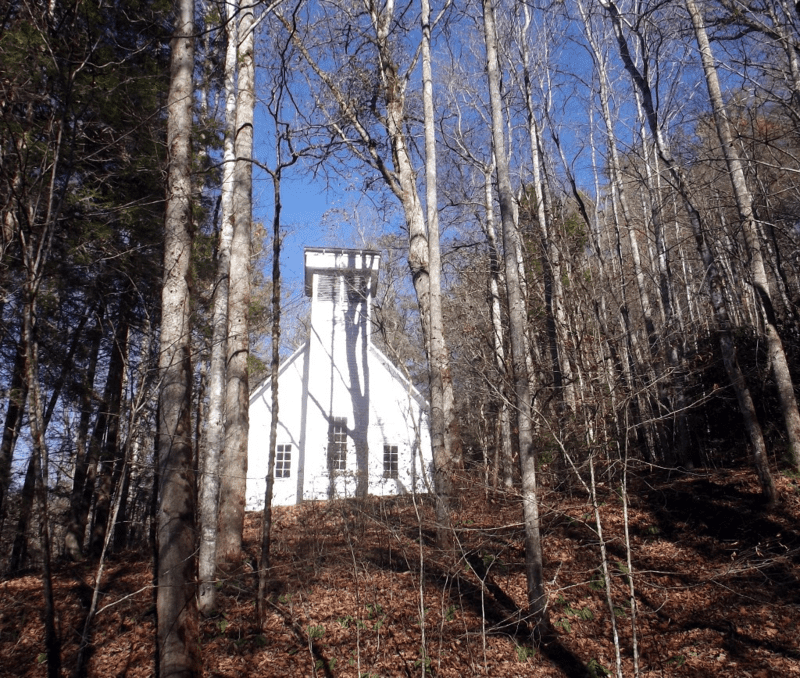 The church did not meet for every service during the fall and winter of 1864-65. The winter was one of the coldest on record and according to the church minutes there was a shortage of supplies in the area.
In the early days Lufty Baptist Church served as a court of sorts. The terrain was so rugged and rural that the elders of the church began settling small disputes brought to them by members.
If you find the history of Lufty Baptist Church as interesting as I do-stick around for more in the coming days.
Tipper
*Source: Ocona Lufta Baptist Pioneer Church of the Smokies 1836-1939. Text by Florence Cope Bush. Over 1,000 names from church records. Copyright 1990 Misty Cove Press PO Box 22572, Concord, TN  37933-0572