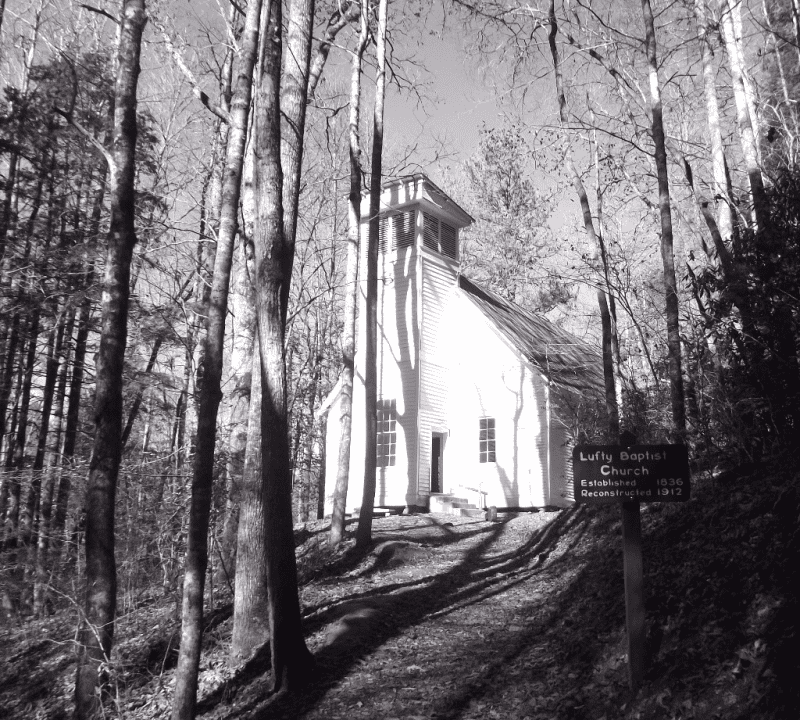 *The Onconaluftee area is located in present day Swain County, NC-and is where the historic Lufty Baptist Church is located.
*Mud Creek, Collins Creek, Bradley Fork, and other tributaries flow into the Oconaluftee River. After passing through Cherokee, NC, the Oconaluftee joins in with the Tuckasegee River.
*Smokemont, the area surrounding the historic church was once a thriving mill town-with a population of over 1,000-before the park took the land.
*The name Oconaluftee is said to be derived from the Cherokee word which means "by the river."
On the day we visited the church-we poked around a few other historic sites that were nearby-like the Oconaluftee Visitor's Center.
We visited a small graveyard that was just off the busy 441 Highway. As we walked along the road-looking for the place to turn into the woods I wished there wasn't so much traffic-that the cars weren't going so fast-and that we'd hurry up and find the spot.
I felt like we were time travelers. Walking single file down 441 with people speeding to and fro in this modern world; stepping down into the woods; walking the footlog across the river to a different time and place: heart shaped gravestones no one much knows are there-broken bits strewn by people who left their home way too soon.
Tipper
Appalachia Through My Eyes – A series of photographs from my life in Southern Appalachia.