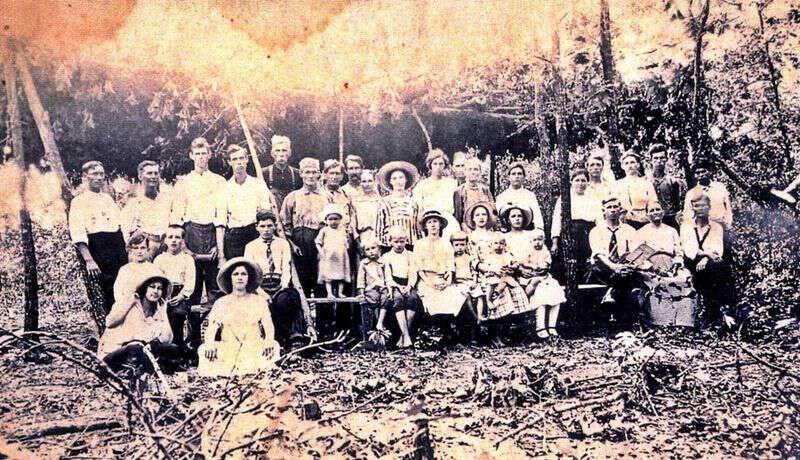 Photo from Fentress County Family Photos
brush arbor noun A frame shelter, sometimes temporary, constructed of vertical poles secured in the ground and supporting a series of large, horizontal limbs on which fresh brush and smaller limbs are placed. The structure, usu adjacent to a church or cemetery, provides shade and shelter for preaching and worshipers, esp during the late-summer revival season.
Dictionary of Smoky Mountain English
———————
Sometimes when I get an old Appalachian word, phrase, or piece of folklore on my mind I'll test it out on the girls to see if they know what it means. Sometimes they quickly tell me the answer letting me know the piece of heritage has made it down to their generation. Sometimes they don't have a clue what I'm talking about and that always makes me a little sad.
The other day I had brush arbors on my mind so I yelled down the hallway and asked the girls if they knew what a brush arbor was. Chatter said nope she didn't have a clue. Chitter said "Of course I know what it is." I said "Well what is it?' She said "Its when a bunch of churches get together and burn brush." The Deer Hunter and I are still smiling about that answer!
In today's Appalachia the brush arbor revival has been replaced by tent revivals. They usually have a rather large one in Andrews each year. Even though the service is held in a tent I still hear folks refer to it as the brush arbor meeting.
Tipper