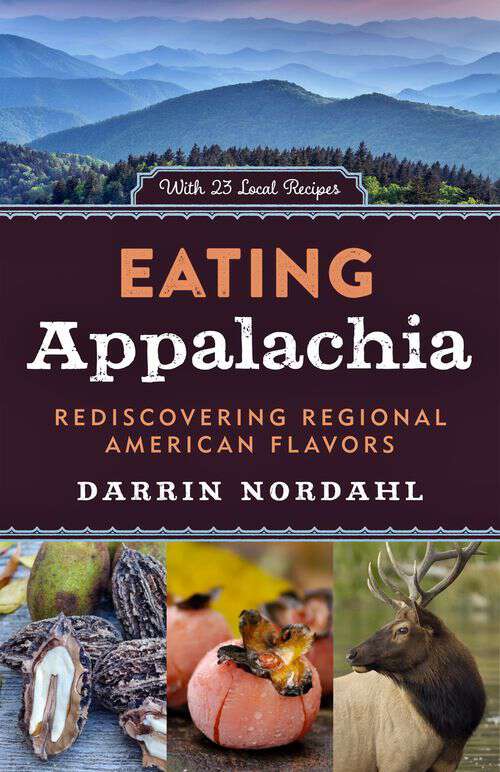 In late spring the folks at Chicago Review Press sent me a copy of the book Eating Appalachia written by Darrin Nordahl. As many of you will remember, I had a bumpy start to my summer when Pap decided to fall, break his hip in 2 places, and have a heart attack all on the same day! Needless to say, I didn't get to read the book as quickly as I would have liked with all that going on, but I'm here to tell you the book was worth the wait.
Nordahl begins the book with a premise that has never occurred to me: most of the food we consider American Cuisine isn't native to America. For example, he points out most people realize bananas aren't native to the USA but wonders if most people know bananas are hands down the most popular fruit consumed in America. Nordahl goes on with a list of fruits and vegetables that have been staples in my diet since I was a child. None are native to the USA.
The following chapters of the book are dedicated to highlighting foods that are native to the Appalachian Region of the USA. Think ramps, papaws, black walnuts, butternuts, hickory nuts, sumac, persimmons, wild greens, and more! Each chapter has recipes to go along with the food item being discussed.
Along with all that tasty goodness, Nordahl discusses what role eating indigenous (native) foods could play in the scheme of our country wide food system. He also high lights folks who are dedicated to making sure these native foods stay around and the various festivals they've created to aide in that process. Most of the native foods he discusses aren't sold in chain supermarkets and with no one to remind folks about them they'll be gone from our diets and our history before you know it.
Nordahl's epilogue contains a very sobering quote:
"Around the world, people have witnessed the flavors of their childhood vanish. Three-quarters of the world's food plants have disappeared, according to data from the United Nations' Food and Agriculture Organization. In the United States, the statistic is more alarming. Over 90 percent of our crop varieties have been erased from farmers' fields…Today, 60 percent of the world's food is based on just three species: wheat, rice, and corn."
That gives you something to think about uh?
The book ends on a hopeful note. Nordahl describes Slow Food Ark of Taste, which is dedicated to remembering those fading food items and reminds the reader-if you want to support native foods EAT THEM!
Making native food items that grow right outside our doors part of our regular diet is the best way to hold onto them and to encourage others to use them as well.
—————–
Chicago Review Press has graciously offered to give a copy of Eating Appalachia to a Blind Pig Reader. To be entered in the giveaway all you have to do is leave a comment on this post. *Giveaway ends Saturday August 29, 2015.
If you're interested you can visit Nordahl's Amazon page here to purchase the book for your collection-I'm telling you it's a keeper for fans of Appalachia.
Tipper