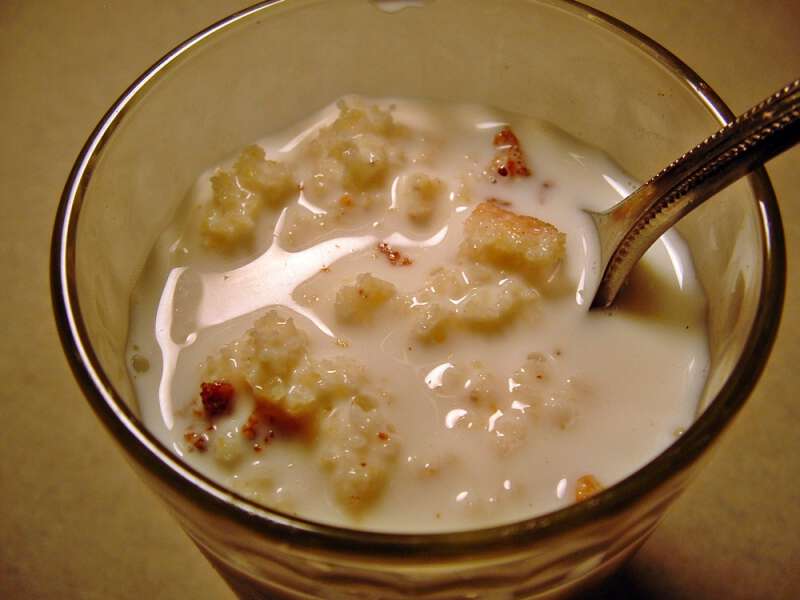 So many of you commented about cornbread and milk-there was no way I could have left it out of our make do foods even if I'd wanted too. As long as I can remember Granny and Pap have eaten cornbread and milk. Granny has a glass almost every night before she hits the hay.
For those of you who aren't familiar with the dish-it's just what it sounds like: cornbread crumbled in a glass (especially nice if you can use an old snuff jar you found up the creek) with milk poured over it. Some folks prefer regular sweet milk-while others like Granny and Pap prefer buttermilk.
Janet said she liked to sprinkle pepper on her cornbread and milk.
Kat remembered eating it with her Daddy-and said that she still eats cornbread and milk.
Farmchick said at her Mamaw's house there was always cornbread and milk.
Wanda in NoAla said cornbread and milk was a sure cure for the munchies.
Norma said her grandfather thought that the perfect Sunday night supper was to crumble up cornbread into the biggest glass he could find, then pour in either homemade buttermilk or Borden's buttermilk, which used to have big chunks of butter in it.
Becky said she liked having cornbread and milk as a snack.
I couldn't resist googling cornbread and milk to see what came up. I found this site that has some interesting tidbits about cornbread and milk.
I suppose cornbread and milk is such a common denominator in our lives and the lives of our parents and grandparents-because the ingredients are common to most house holds. And they were common in days gone by as well. Pap's family might have been poor-but they always had a cow and they always grew corn for meal.
I like cornbread and I like milk-I just don't like them mixed up together-how about you?
Tipper